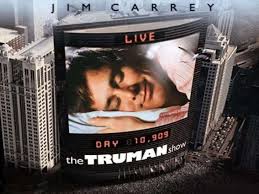 Director Peter Weir's modern masterpiece, The Truman Show (1998), is about a kid who is adopted by a broadcasting network. Unbeknown to the young Truman—but relished by anyone with a cable subscription—his every waking moment is being broadcast on live TV.
Truman's whole life is spent in an island town (which is actually an elaborate movie set) and his entire family, friendship circle, and everyone he interacts with are all paid actors. Their lines are fed to them by improvising scriptwriters via earpieces.
This masquerade goes on for decades with flawless execution, except for a few comical glitches like stage lights falling from heaven and fame-seekers who crash the set.
The perpetual ruse effectively dupes the adult Truman, played by the inimitable Jim Carrey, into living a life in which he is literally the center of attention all day, every day. The sun rises and sets for him and the weather is altered to create the director's desired ambience. Truman is the reason for the season…and for everything else that happens in his world.
It's a poignant and thought-provoking story.
But sadly, there is real-life tragi-comedy being played out in society today. Many people pass their days as if they are a self-aware version of Truman. They function as if they are meant to be the center of the universe. They actually get upset when the backdrop, like the weather, doesn't meet their expectations. They become disenchanted when personal plans and desires are not quickly championed by everyone else. They have a near existential crisis when the economy, the political scene, or the people in their lives don't behave the way their self-directed script would prefer. It's almost as if they are disappointed that they can't fire the actors who refuse to collaborate with their script.
Some people behave exactly as if they were raised to believe everyone and everything exists for them.
But the Bible enters as a rock of truth that disturbs the reflective pond of Narcissus. God's word disabuses us of our delusions of grandeur and solipsism. The Apostle Paul revealed to the Colossian church once for all around whom all of life should revolve.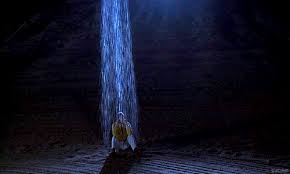 Col 1:16 "For by him all things were created, in heaven and on earth, visible and invisible, whether thrones or dominions or rulers or authorities- all things were created through him and for him."
Here are two points to remember at all times…
1. ALL THINGS WERE CREATED THROUGH CHRIST
When Paul says "all things" he is talking about nature: the squirrels, and the duck-billed platypus, and the planets, yes, but that is not all. He plows on to say, "whether thrones or dominions or rulers or authorities."
The phrase "thrones or dominions" refers both to human and angelic seats of authority. And "rulers or authorities" refers to a person with the indisputable clout of a king or emperor.
You might say "Are you telling me that Jesus begot all of the world's presidencies and parliaments? Did he appoint the Imperial reign of the Roman Caesars and designate the dynasties of China? Did he maneuver the monarchy into British history, and direct the democracy of America? Could he be the one who created the Scottish clan councils, and stationed the Zulu chieftains?"
Yup.
Jesus not only created the visible and invisible matter of creation, but also ordained the very ordering and administration of the systems in which we live and move and have our being (Acts 17:26-28). God could have brought forth the world and then just let humans run the place on their own. But he didn't.
So you might ask: did God place Adolf Hitler, Joseph Stalin, and Robert Mugabe into office? Is God responsible for allowing my dimwitted boss to rule over me?
Yup.
Dan 4:17 "The Most High rules the kingdom of men and gives it to whom he will, and sets over it the lowliest of men."
Romans 13:1-2 "Let every person be subject to the governing authorities. For there is no authority except from God, and those that exist have been instituted by God. Therefore whoever resists the authorities resists what God has appointed, and those who resist will incur judgment."
The answer is a resounding yes and the application is simple: Submit.
Human authority is Jesus' way of governing you. The King of kings is in charge of the president. Does this mean every decision made by someone in authority over you is a good and God-glorifying one? Not at all.
But authority doesn't have to be right to be obeyed.
The only time we don't obey is when obedience would mean sin. Like Peter and John who were told not to preach by the court, contra a direct instruction from God to do the opposite (Acts 4:18-20).
2. ALL THINGS WERE CREATED FOR CHRIST
We live in a Christocentric universe. The chief end of everything is Jesus Christ.
Pleasure exists so you can get a glimpse of what it will be like to enjoy Jesus forever. Pain exists so you can get a glimpse of what it will be like without Jesus. Paul also put it this way: "For from him and through him and to him are all things. To him be glory forever. Amen." (Rom 11:36)
Do you glory in Jesus? Do you want to? You can…by obeying him, by serving him, by singing to him, by trusting him, by talking to him and about him.
You exist for his glory. Does that excite you?
Do you love the thought that you exist to make God look glorious?"

-John Piper
Jesus is coming back to be glorified: 2 Thess 1:10 when He comes on that day to be glorified in His saints, and to be marvelled at among all who have believed, because our testimony to you was believed.
Jesus belongs at the center of worship, of friendship, of science, of politics, of art, of commerce. And it is our privilege and responsibility to do our best to put him there and keep him there by the way we live and think and talk and vote.
Let's remember that, as we inch closer to seemingly off-script events that may beget a disturbingly tragi-comedic election year!