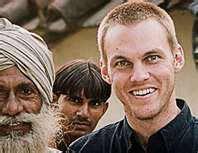 This is second hand information, but I hear David Platt is the real deal. I have every reason to believe it. I've interacted with numerous people close to David and they all say the same thing. The dude lives what he preaches. Given the tendency for trend setting pastors to bear a likeness to Tony Robbins, this independently verifiable fact is refreshing. What he's written is what he believes. What he believes is what he lives. I'm happy to spread the rumor.
Case in point. Recently, I was seated at the table with a former elder of Brookhills at a ministry dinner. In the midst of our conversation he reinforced the legend of Platt's sincerity. According to him, at the height of Radical's success – of which he receives no proceeds – David's family downsized. He went from nineteen hundred square feet to about nine hundred. For most Americans, that would be…  well…  radical. Honestly, I was convicted.
Having recently read Platt's follow-up book, Radical Together, I innocently mentioned to this former elder how David had proposed selling Brookhills multimillion-dollar facility – which would be consistent given his message (so many ironies here). The distinguished gentlemen, who had not read the book, nearly choked on his couscous. Apparently, spiritual austerity has its limits.
Books like Radical and Crazy Love have struck a chord with recession conscious Christians. The accoutrements offered by church growth philosophies are now unthinkable in light of the economic hardships, vast needs and suffering around the world. More than one modern day prophet has declared the end of the mega-church era. For young evangelicals these behemoths of old are what gas guzzling SUVs are to environmentalists – irresponsible and inefficient. Around church boards words like "sustainable" are slowly replacing words like "strategic." Like a tie that stayed in the closet long enough to come back in style, the small church is now the wave of the future. Rustic is the new relevant.
This emphasis is resonating with individuals on deep levels. Downsizing is a new fruit of the Spirit. People are going small. Young rat race weary suburban Christians are taking their cues from the likes of Chan and Platt. Reducing square footage. Quitting their corporate jobs. Going overseas. Adopting orphans from all over the world. Cutting back to one car. Venturing into micro-economics. Owning humanitarian convictions. Doing their part to meet needs in their immediate communities. Moving out of their well to do neighborhoods. Relocating to the inner city and lower income areas. All of this, in one-way or another, is a reaction to the "what's in it for me" deluge of the past.
Much good has resulted from this shift in thinking. (I've seen many positive effects in the church where I pastor.) A resurgence of mission mindedness in evangelical pews. Community conscious Christians. Intimate fellowship. Deep seated compassion for suffering around the globe. Sincere concern for the less fortunate. Multi-ethnic congregations. Simplification of church. A return to core convictions. Cheesy power-point presentations and sermon props are slowly being replaced by gut check calls to life examination. "Eight Ways to Better Living" is slowly being replaced by "Eight Signs the Church is Narcissistic."
For certain, numerous Christians are now migrating out of the suburban Promised Land settled by their pragmatic forefathers. There's a reason Rick Warren didn't end up in Harlem. Growth rates in U.S. cities – otherwise known as going where God is working – lead him to Orange County. After all, church growth and inner city are innately at odds. But, things have changed. It's no longer about numbers. It's about genuine and simple. Small churches are popping up in urban areas targeting specific neighborhoods with the Gospel. Famously, Francis Chan, who planted Cornerstone in the suburbs of Simi Valley, resigned as its lead pastor. He's headed to the austere realities of inner Los Angeles. A place where people desperately need the Gospel. The suburbs are the new burned over district.
It's been interesting watching all this take place in evangelicalism. For some, their commitment to the new asceticism is intense. Affluence is now a veritable unpardonable sin. It's not much unlike when American Christians travel to third world countries on short-term mission trips. They most always come back disgusted at the prosperity of America. Two weeks spent boiling your own drinking water has a way of helping you count your blessings. I tell our own short-term missionaries – if you can't weep for the American businessman the way you do the Haitian, then you are not ready to go to Haiti. Ultimately, I pray all this isn't some weird irony. A trend in which middle class suburban Christians have mistaken a desire for spiritual austerity and simplicity with a call to missions.
Even with all the good that has come from this, I do have a basic concern. I'm afraid we may be misunderstanding the Gospel in all this. If we assume the disadvantaged in our inner cities (or third world countries) need the Gospel more desperately than the privileged on their boundaries, than indeed we have. For certain, it denies man's real need and judges by externals only. After all, humanitarianism is a means to an end. The end is the proclamation of the love of God in the Gospel of Jesus Christ.
What if a man wearing a tie entered your church along side a man in rags? Honestly now? Who would you assume needed the Gospel more? To whom would your heart go out? Our instinct here is evidence of our failure to maintain Gospel fidelity. Our hearts should go out to both. Not weeping over the businessman in the same way you do the poor man is an insult to the Gospel. To provide the homeless man with bread only is not the full extent of Christian love. Neither is assuming the man in the tie is less destitute as the man in need of bread.
The upper middle classes of the suburbs still need the Gospel. Desperately, in fact. I pastor a suburban church in Nashville, TN. Community Bible – once a rural congregation – has been at its present location for nearly fifty-years. About twenty-five years ago the suburbs overran it. Now, you should know that Nashville invented "church." There's no place quite like it. There are more steeples than treetops in this town. A few years back there were fourteen church plants in the Nashville metropolitan area. "Like a hole in the head" comes to mind.
Why plant churches when there are so many churches already here? Because church is a semi-professional sport in this southern city. I don't mean to demean the efforts of church planters, but planting churches in the bedroom community of Nashville is almost too easy. People do church round these parts. Anyone can plant a church. Even a local weather anchor planted a church here. The logic is not too dissimilar from starting a boy band. Frosted tips, catchy lyrics, choreography and you've got a hit on your hands. This place is more religious than the Vatican City. If you build it they will come.
Despite the concentration of churches, the majority have not heard the Gospel. The true Gospel that is. The one which has Christ's substitution atoning death for sinful men at its core. The one which has reconciliation to a Holy God as its highpoint and every point in between. The pragmatism of seeker sensitivity over the past forty years – which missed the Gospel all together – may have spared people from a lack of contentment, but it did not spare them from the wrath of God. The fields out here are white unto harvest.
There is an amazing opportunity to step into this void with Christ. There is a revival taking place among the comfortable. The "simple" Gospel which is resonating in lower income contexts is also resonating with the overly churched in affluent contexts. After all, it applies to both equally. The Gospel has no boundary to contain it. It penetrates all strata of men and society. (You do realize the Rich Young Ruler would not have been saved had he sold everything? Right?)
So, who's going to reach the affluent with the Gospel? Who's going to bravely venture out into the wilderness of capitalism and reach those who have been trapped by its power? Who's going to trek out into religiously dense suburbs and assume the worst among the people who look the best? The church still needs successful businessmen and wealthy executives who can infiltrate the upper echelons of the corporate world with the good news of Christ. And investment bankers who can speak deliverance into the context of greed. We still need salesmen whose business trips look more like mission trips. The church still needs missional soccer moms.