It was around 3:20 in the morning on a cold night in March of 1964, when Kitty Genovese returned from her regular shift at a bar in New York. She parked her car, and began her walk to her apartment complex like every weeknight for the past year.
This time though, Kitty noticed a man following her, so nervously, she headed up an adjacent street hoping to get away from the man. To no avail. The man grabbed her and stabbed her.
She screamed in pain, "He stabbed me! He stabbed me!" A man looking down from his apartment complex yelled "Let that girl alone" so the assailant, taking his time, walked away. But as soon as the lights went out in the apartments, he quickly returned and stabbed her again. This time more people seemed to notice as she cried, "I'm dying! I'm dying!" This time more lights went on as more people took notice, so the attacker drove away.
Finally the assailant returned and found her in anguish as she desperately tried to crawl up the stairs to her apartment and stabbed her for a third and final time. The police were finally called at 3:50 am. In less than 2 minutes they were on the scene. A man and an elderly lady came forward to speak with police and no one else.
The New York Times reported that there were almost 40 people who heard or saw the attack that night and did not call the police. "A simple phone call and she would still be alive," sighed a detective.
As the story gained interest many of the neighbors were interviewed and asked why they didn't call the police. All kinds of excuses were given. Some of the most memorable were: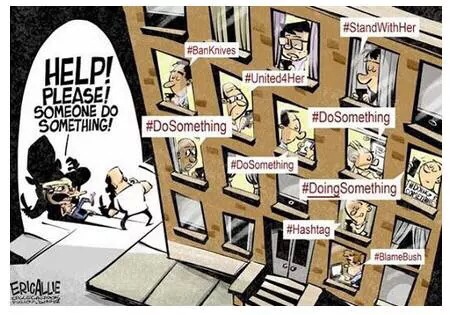 "I was tired. So I went back to bed."
"We were afraid, we didn't want to get involved"
"I didn't want my husband to get involved"
"I thought someone else would do it"
It was 4:25 am when the ambulance arrived to take her dead body away, then and only then the people came out.
While it's easy to point the finger at these neighbors and say that they were selfish and lazy, I think that this attitude easily creeps into our churches as well. The Genovese Syndrome (a.k.a. The Bystander Effect) is alive and well in our congregations.
People come in and out of churches. They come and sit in our pews, even for a few months, and then leave without ever being talked to or checked on. Perhaps because of our misunderstanding about what our role in the Church is and because the Church has become a place where attenders are encouraged to be spectators rather than participants, we seem to lack a desire and a fervor in caring for those who may leave our churches and go back into the world.
James, in James 5:19-20 wants to encourage churches to be different. He wants the people in the Church to see themselves as the potential instruments God can use to win back a wayward Christian. Notice what he says,
19 My brethren, if any among you strays from the truth and one turns him back, 20 let him know that he who turns a sinner from the error of his way will save his soul from death and will cover a multitude of sins.
While I love evangelism and usually see it in every passage, I do not believe that James is thinking evangelistically here. Notice he says, my brethren, he is speaking to fellow Christians and says if any of them strays from the truth. James believes that Christians can stray. And of course James knows better than anyone that there are those who claim Christ but who are not genuinely saved. After giving us 5 chapters about how critical it is that we live out our faith in a manner that pleases Christ, his desire now at the end of his letter, is to encourage believers to go after those who fall away. To not let them leave without our arms at their ankles imploring them to stay.
Any of us could be in a situation where we need to be rescued.
As the hymn says, "Prone to wander, Lord I feel it, prone to leave the God I love."
This is reason 3697 of why membership is important. We should affiliate ourselves with a local Church, with elders who shepherd their people; this in turn will provide protection for our families, because any of us are capable of straying from the truth. And the fact of the matter is this, that not only do you need others help in your life but that people around you are in need of your help.
And yet so many times we keep to ourselves. Like the cowards on that night in New York, in 1964, we fail our brothers and sisters in Christ when we keep our mouths shut.
Of course we ultimately know that it is not our fault when someone else sins, goes off theologically, or ultimately, walks away from the Church. But there is a sense in which, part of our job as believers, is to be there when our brothers and sisters fall. Of course as I've written before the way we approach them matters. But few of us are in danger of speaking too harshly, because in order to speak harshly we have to speak to begin with.
Do you know someone who has stopped coming to Church? Do you know someone who believes in a doctrine or has a view that is dangerous? Why don't you talk to them? Why don't you ask to get coffee with them?
So many excuses come up in our mind.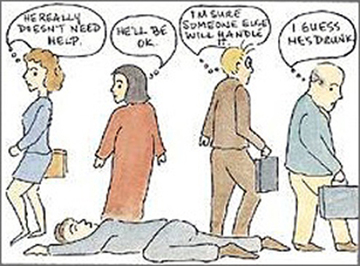 I don't have time, it's the pastors job, I don't want to get involved, I'm afraid, I didn't know them that well. So many excuses that sound so similar to those men and women that night in New York.
James ends his letter with a positive note. He tells us to confess our sins to one another and pray for one another. And then, as if it is inevitable, he warns us about our role when one of us walks away from the faith. And announces that he who rescues a wayward believer, saves his soul from death and covers a multitude of sin.
While it is impossible to know if someone who walked away was truly a believer or not, James says that rescuing them is saving their soul form death.
James' brother Jesus in a similar passage in Matthew 18:15-18 talks about the process of church discipline. Jesus talks about the fact that if your brother sins, you confront him, and if he repents, that you have won your brother. It is an absolute victory.
But if he doesn't repent and after several more steps continues to be unrepentant, that you are to treat him as if he or she is not a believer (a gentile and a tax collector). You are called to evangelize them again as if they were never saved. The implication is that a true believer repents of their sins when confronted.
James wants us to go and rescue people who once claimed to be Christians and who have strayed from the truth. Do you know anyone like this? Don't be the bystander who selfishly refuses to sound the alarm.
Will you be the one who will love them enough to go and attempt to rescue them?
We can't convince anyone to repent, we can't keep anyone from dying, but we can, with God's help and with courage given to us by the Holy Spirit, lovingly warn them and attempt to win them back to Christ.