You're probably already familiar with CrossFit, because one of the cardinal rules of the subculture is to talk incessantly about CrossFit. If you have been in earshot of a CrossFitter you are au fait with the jargon ("My Fran needs work, but I killed Cindy yesterday"), the discrimination against wheat and sugar ("Is that fajita Paleo?"), and the disdain for regular gyms ("Fitness isn't about aesthetics, it's about functionality, so why do they have mirrors everywhere?")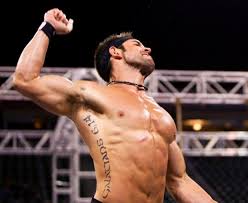 And then there's the tattoos. Rich Froning, officially the fittest man on earth, popularized the Bible verse tattoo among Christian CrossFitters with his Galatians 6:14 reference in bold Celtic script down his side. Just once I'd like to see someone with 1 Timothy 4:8 inked on their squishy torso: "For while bodily training is of some value, godliness is of value in every way, as it holds promise for the present life and also for the life to come."
But if we concede that there are parallels between bodily and spiritual training, there are a couple of helpful principles we can learn from the CrossFit phenomenon.
First, CrossFitters adhere to a constantly varying mix of exercise. No two workouts are identical. One day there is high intensity, cardio taxing bursts in short intervals. The next day will involve a mile of running or rowing for endurance, with some gymnastics thrown in for good measure. Later that week there will be an Olympic weight lifting challenge along with squats and dead lifts to build pure strength. The result is a) that the body never acclimatizes to the conditioning, and b) the athlete never gets bored.
In Bible reading, one of the common obstacles is the tedium of wading through several days of meticulously and monotonously stipulated Mosaic laws in Exodus and Leviticus, and reams of names and numbers in Numbers. And if you make it past the opening months, there are those endless genealogies waiting for you, which can be like quicksand for those with ADHD tendencies. It takes raw discipline and commitment to make it to the respite of the halfway house oasis in the Psalms. The real problem is the guilt. You feel like you should be enjoying every word and profiting from every name and number listed…but you don't. So, you end up skimming sections to keep up with your reading plan and get to what you sheepishly think of as the "good stuff" in the narrative. But then you feel guilty that you haven't really read all of the Bible in a year, because you sped-read the repeat passages in Chronicles.
The solution is to constantly vary the genre, and speed, and length of your reading. After a chapter of law or genealogy, which you can read quickly, slow down and savor a Psalm or two each day. When you reach a narrative section, why limit yourself to a four chapter chunk with an arbitrary break? Rather crank out the whole story, while your interest is gripped. Intersperse heavy OT prophecy with a short NT epistle. Sometimes read the whole letter in one sitting, and other times meditate on a short section or even one verse.
I know what you're thinking: this plan doesn't sound like it will guarantee a read-through in a year. You got me. You may or may not make it through in a year to two or three. But this is where the other CrossFit philosophy kicks in…
CrossFitters eschew short-term fitness or aesthetic goals, and prefer a lifestyle of wellness that endures for a lifetime. The problem with the "Six weeks to a six pack" mentality of many fitness programs is that the diet, hours of training, and type of intensity they require is not really sustainable in the long term. Statistics prove that most people who attain their weight-loss goal after a short burst of enthusiasm will soon afterwards revert to their former eating habits and sedentary lifestyle, and thus eventually back to their former flabby self.
Fitness progress is not about achieving a set goal but rather a constant, steady personal improvement with no terminus other than ever-increasing wellbeing. Being fit isn't about looking good or getting to a goal weight, it's about health and ability and quality of life.
The same is true for spiritual growth. Reading the Bible through in a year should not be the goal, it should be one means toward the goal of growing in knowledge and love of the Savior. Yes, Bible knowledge helps, and thus reading the Bible frequently and deliberately helps. But the reading plan needs to be subservient to the goal, and not the goal itself.
When a CrossFitter has a non-Paleo cheesecake cheat day, they make up for it with extra commitment for the next day or two; they don't get discouraged and try to drown their sorrow in pizza and soda. Likewise, if you miss a day or two or week or two of reading, don't consider the whole plan a disaster. Just pick up where you left off. Take the weight of an event-driven mentality off your shoulders and enjoy the lifestyle of constantly varied Bible intake for the sheer pleasure of learning about God and the immeasurable profit of spiritual growth.
I hope you will try this approach and when it works that you will tell everyone you know about it. Just like a CrossFitter would.