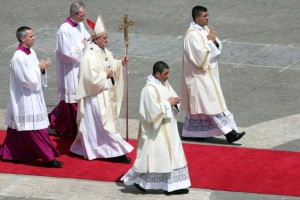 This past weekend pope Francis canonized four new saints in a ceremony which received extra attention as two of the four were of Palestinian origin. One of the new Palestinian saints, Sister Mariam Baouardy (1846-1878), was a mystic and stigmatic also known as "Mary Jesus Crucified." She was a Palestinian and foundress of the Discalced Carmelites of Bethlehem in the late 1800's. The other new Palestinian saint, Sister Marie Alphonsine Danil Ghattas (1843-1927), was a co-founder of the Congregation of the Rosary Sisters, who spent much of her life in Bethlehem founding schools and orphanages.
Despite the interesting politics of the situation, we will stick to commenting on the theological issues. What is a saint? How does one become a saint? And what is Rome doing when they canonize someone?
First, a brief theology on Roman Catholicism's view of the saints.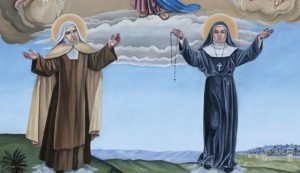 The term canonization refers to a decree that is binding on the Universal Church issued from the pope which commands the public ecclesiastical veneration of an individual.
Rome's criteria for recognizing an individual as a saint involves a few steps. First, the person's life is evaluated to determine if, according to Rome, they possessed orthodox doctrine and heroic virtue, normally a number of years after death. Upon Rome's approval, the individual is considered "venerable." Then, the nominee is typically beatified, on the condition that a miracle occurred after the individual's death and consequent of petition to that individual. According to Rome, this ensures that the saint-candidate is both in heaven and able to intercede for those who pray to them. At this point, the individual is permitted by Rome to be beatified, though not yet canonized. Finally, the candidate will be declared a saint upon Rome's determination that they performed a second miracle. It should be noted that typically only the saints are said to be in heaven for certain. "The title of saint tells us that the person lived a holy life, is in heaven, and is to be honored by the universal Church" (http://www.catholic.org/saints/faq.php). Saints are thought to be special friends and servants of God whose holy lives have made them worthy of his special love. Once the pope canonizes the individual, the declaration is infallible and irrevocable.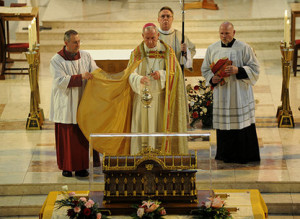 Saints are officially venerated throughout the year. "All Saints' Day" falls on November 1 and, according to Urban IV, was created "to supply any deficiencies in the faithful's celebration of saints' feasts during the year." Many of the saints have specific days set for their veneration. A look at the Roman Catholic saint calendar is simply exhausting due to the sheer quantity of saint holidays. For example, today (May 20th) venerates St. Bernadine of Sienna, the patron saint of gambling, due to his preaching against the practice. June 13th venerates St. Anthony of Padua, the patron saint of lost items, to whom some Catholics are taught to pray, "Dear St. Anthony, come around, something is lost and can't be found."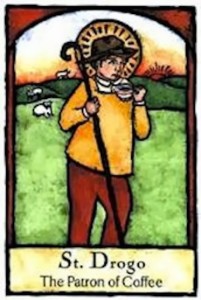 There are others, for example, St. Genesius (the patron saint of theatrical performers), St. Francis Borgia (the patron saint of earthquakes), St. Teresa of Avila (patron saint of headaches), St. Isidore of Seville (the patron saint of the internet), St. Apollonia (the patron saint of toothaches), St. Fiarce (patron saint of taxi drivers), and, my personal favorite, St. Drogo (the patron saint of unattractive people and coffee). In case one struggles to remember which saint is to be venerated on which day, a "Saint of the Day" smart phone app has been created to assist with that.
Additionally, prayers are to be offered both by the saints and to the saints. In other words, the saints can pray for you, as well as be prayed to by you.
But, despite the profuse teaching, the Roman Catholic doctrine of the saints violates Scripture on several crucial points. Here are a few of them:
The headship of the church belongs to Christ alone.
Rome's practice of canonization is largely an authority issue. In Roman Catholic teaching, the pope is considered head of the church and vicar of Christ, among other things. As such, he is thought to have the final say on matters such as who is and is not a saint. His act of canonization is said to be infallible, irrevocable, and universally binding. These pronouncements are fundamentally rooted in the authority and headship said to rest in the pope.
However, Scripture teaches that Christ is the perpetual head of the church. "And He put all things in subjection under His feet, and gave Him as head over all things to the church, which is His body, the fullness of Him who fills all in all" (Eph. 1:22-23). As such, he alone has the authority to declare who is in heaven, who is not, and who are saints, and who are not.
Prayer is to be directed towards God alone.
If God's people were to pray to the saints, certainly Scripture would teach that. But the overwhelming testimony of Scripture teaches that prayer be directed towards God. For example, when Christ taught us how to pray, he instructed us to pray to God: "But when you pray…pray to your Father…" (Matt. 6:6), "Pray, then, in this way: 'Our Father who is in heaven…'" (Matt. 6:9), and, "…will not God bring about justice for His elect who cry to Him…" (Luke 18:7). In each of these teachings, we are instructed to pray to God.
The Apostle Paul instructed that we pray to God: "Be anxious for nothing, but in everything by prayer and supplication with thanksgiving let your requests be made known to God" (Phil. 4:6).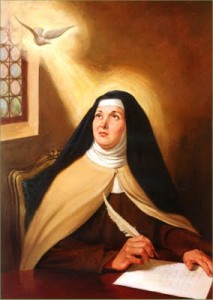 The biblical examples of prayer describe prayer being directed towards God alone. Not one prayer in the Psalms is directed towards the dead. Further, both Jesus (e.g. John 11:41, 17:1) and the Apostles prayed only to God (e.g. Acts 1:24, 4:24, 16:25).
Rome argues that God's people ought to ask the dead saints to pray for them on the grounds that we ask living people to pray for us. But there is a problem with that: we can speak with the living, but we are forbidden to do so with the dead (Deut 18:10-12). "And when they say to you, 'Inquire of the mediums and the necromancers who chirp and mutter,' should not a people inquire of their God? Should they inquire of the dead on behalf of the living?" (Isa. 8:19). Prayer is to be directed only to God.
Veneration is to be directed towards God alone.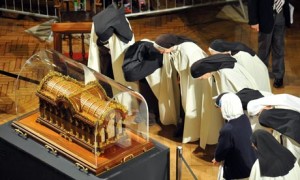 Rome argues that there is nothing wrong with honoring the saints since we honor the living. However, Rome teaches that the saints are to be given more than honor. When a saint is canonized, the church is under mandate, by papal infallibility, to venerate them. Combine that with the act of praying to the saints, and the consequence is idolatry, which Scripture condemns (Exod. 20:4-5, Matt. 4:10). Whether or not Rome explicitly affirms the worship of the saints, the actions are clear enough.
People are made saints by faith in the Person and work of Christ alone.
The most serious issue with Rome's teaching on the saints relates to the biblical gospel of Jesus Christ. Rome teaches that saints are really the only individuals who can have the assurance of heaven, and have been granted that status through extraordinary morality and miracles. For that, Rome's doctrine of the saints commits grievous error.
The title, "saint," does not refer to an elite Christian, but every Christian. For example, the Apostle Paul referred to everyone in the churches at Rome (Rom. 1:7), Ephesus (Eph. 1:1), and Philippi (both lay people and deacons and elders) as "saints" (Phil. 1:1). And, perhaps outrageously from a human standpoint, the Apostle referred even to the regenerate Corinthians as "saints" (1 Cor. 1:2).
How in the world could sinful and simple, nobodies across the Roman Empire be considered saints?
Contrary to Rome, it is not our works that merit the status of sainthood and entrance into heaven with God. "Saint" is a God-given title to all who have been justified by faith alone in the Person and substitutionary work of Jesus Christ. God placed the full penalty of our sin on the sinless Christ when he died on the cross. Consequently, the most flagrant sinner may be declared a saint and in the right with God by faith alone in Christ alone. We become a saint, not by our valiant display of deeds, but by the vicarious death of Christ. Every ounce of God's wrath due sinners was turned to Christ such that we can rest in our standing as saints of Christ and the assurance of heaven to come. Sinners become saints, not by heroic works, but humble faith. You do not need extraordinary virtue to secure sainthood with God, but an extraordinary Savior.
"Therefore, since we have been justified by faith, we have peace with God through our Lord Jesus Christ" (Rom. 5:1).
Along with being biblically unsubstantiated, Rome's teaching on the saints contradicts Scripture on some of the most fundamental doctrines of Christianity. In light of these serious biblical errors, it must be rejected.
Photo credit: assets.nydailynews.com, haaretz.com, cardiffmetropolitancathedral.org.uk, archdioceseoftoronto.blogspot.com, daughtersofthechurch.files.wordpress.com, static.guim.co.uk