I recently took our adult Sunday School classes through a short series on rethinking biblical application in relation to expository listening. From that study, I was reminded that biblical change is a synergistic work of grace which often involves the preacher (2 Tim. 4:1-2), the expository listener, and the Holy Spirit (Phil. 2:12-13).
In earlier articles I addressed the biblical expectations of the preacher (Ezra 7:10, James 3) and the listener (James 1:21-27; Luke 12:48). I also included some helpful thoughts by Pastor John MacArthur with regards to the role of application in expository preaching.   In today's article, I will identify some practical principles that will hopefully instruct Christian listeners and expository preachers alike in order that both might better profit from the preaching of the Word.
1) Establish realistic expectations, keeping in mind that not all sermons are going to have the same impact.  
Establishing realistic expectations is critical for both the expository preacher and the expository listener.  Not every message is going to have the exact same impact on our hearts and minds. The same principle is true with regards to the praise songs and hymns that are sung during the worship service.
Not all sermons are going to have the exact same impact on the listener.  A lot of factors account for this, such as:  A) The sermon itself. (Some messages are just better than others.  By "better" I mean some expositions enjoyed great clarity, more direct exhortation, more passionate delivery, and more in-depth exposition).  B) The text itself.  (Genuine exposition is always text-driven.  A faithful expositor will try and make the main points of a passage the main headings of his exposition.  Some Scriptural texts are weightier than others, while certain texts are more difficult to understand (2 Pet. 3:15-16).  Some chapters in Scripture are more doctrinal (e.g. Ephesians 1) and dense, while others are more "application-orientated" (e.g Ephesians 5).  In saying this, I am in no way discounting the sufficiency of God's Word.  All Scripture is God-breathed and is profitable (2 Timothy 3:15-17).  C) The preacher. (Members often have no clue what is really going on in their pastor's life and ministry).  If your pastor had a taxing week, is under the weather, and/or gets chewed out by a disgruntled member right before the service starts it may have some impact on the service.  D) The hearer (Preachers often know very little about what happened Sunday morning before his fellow members arrived at church, much less how their congregation members week really went).  Suffice it to say, life circumstances often play a role in the mind and heart of both the preacher and the hearer.
For example, if someone is going through a dark valley they may find certain exhortations and messages are especially encouraging to them (e.g John 14:27, Rom. 8:28-39).  On the other hand, if a believer is struggling with internet pornography they may find certain texts to be particularly convicting and/or hard to swallow (e.g. Matt. 5:29, 1 Thess. 4:3-7).
When I was in seminary I read Charles Spurgeon's lecture on the Minister's Fainting Fits, and honesty, I was not really moved by it.  Ten years later I went back and reread the exact same message and found it to be one of the most encouraging and helpful things Spurgeon ever said.  What happened?  My life experience greatly changed.   I was now the discouraged minister that Spurgeon was seeking to build up and instruct in this famous lecture.
According to His infinite wisdom, God often takes us through times of difficulty and uncertainty (John 15:2) in order to soften our hearts so that they will be more open to the ongoing ministry of the Holy Spirit in and through the Holy Word of God (Heb. 12:1-11).  Suffice it to say, it is a bold statement of faith to declare in song, "Have thine own way, Lord!  Have thine own way!  Thou art the potter, I am the clay.  Mold me and make me after Thy will, while I am waiting, yielded and still."
2)  Just because you were not particularly moved during the sermon does not mean everyone else necessarily felt the same way.
For example, one of my more recent messages in John 15 (the Vine, the Branches, and Divine Gardner) did not have the exact same impact on everyone in our congregation.  Upon hearing Jesus words in John 15:1-11, a few listeners were deeply troubled and cut to the heart.  These individuals left the service in the spirit of 2 Cor. 13:5 asking themselves, "Am I genuine, fruit-bearing branch or am I a pseudo-Christian (a barren branch)?" For anyone who might be riding the fence, a sober warning like John 15:6 is quite unsettling.  For the majority of my hearers, who are actively abiding in Christ, this sermon may not have the same kind of powerful impact on them.   We do well to recall that the songs that are sung and the sermon that is preached is part of a corporate worship service.
One of the things most ministers of the gospel pray before they preach is that the Holy Spirit would comfort the afflicted and afflict the comfortable.  We pray this because cruise-control Christianity is dangerous to the soul.  We pray this because we want the Spirit of truth to admonish the unruly, to encourage the fainthearted, and to help the weak (1 Thess. 5:14).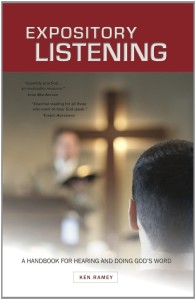 3) We can profit spiritually by reviewing the truths that we received the following Sunday.
You should do this in the spirit of James 1:21-27.  At Grace Community Church  the following reminder is printed each week at the bottom of the sermon notes. "BE A DOER. Your responsibility, by God's enabling, is to consistently apply the divine principles and truths you have heard (Phil. 2:12-13; 1 Tim 4:7-9; James 1:22-27). As you meditate on this message, ask yourself three questions: (1) How does God want my beliefs/actions to change? (2.) How can I accomplish this change (3.) What is the first step toward bringing about this change."
Dr. Stuart Scott once said it was a regular practice of his to spend time every Monday going over his notes from Sunday.  In other words, Dr. Scott wants to do everything he can to be a "doer of the Word" and not merely "a hearer only."  How many times have we left the service without ever thinking about the sermon again?  Probably more than we would like to admit.  If you are not growing spiritually, it may not be an intake problem as much as it is a prayer and meditation problem.
4)  Meditation, prayer, and personal reflection are essential disciplines for both preacher and hearer alike (before, during, and after the sermon).
Even when a sermon does not have as much direct exhortation in it as it could/should (2 Timothy 4:2) a Spirit-filled listener can still take the main headings of the Text/sermon, and with the Holy Spirit's aid, apply some of these Divine truths to their life.  Twenty minutes of sermon follow up often goes a long way.
5) We can reap benefit by intently listening to each sermon in view of the unknown future.
If you visit a place like Edward Jones, a financial expert will encourage you to invest with the future in mind.  The same perspective should be ours as we study and listen to holy Scripture.  Think of each message as a spiritual deposit.  You are often putting away spiritual resources for the future (which is unknown to us but not to our Sovereign Lord).  You never know when your next rainy day will come.  But come it will (James 1:2-6).
One of the things I often say to our lay-leaders is, "that you cannot offer what you do not have."  Evangelicals are often quite self-centered and consumerist when they come to church.  "I did not get anything out of that sermon today.  What a waste of time."  "This current series hasn't met me where I am at."  Beloved, have you ever considered that God may be reminding you (2 Pet. 3:1) of certain biblical truths for the benefit of someone else (Jude 22-23)?  So when that friend, family member, church member, neighbor, co-worker, or classmate asks you for counsel, you can offer them wisdom from above as you offer them timely advice. So, listen intently to each sermon in view of the unknown future.
Finally, 6) We will benefit as we keep the big picture in mind as we hear the Word proclaimed.
Over the years I have come to learn that every time I understand a portion of God's Word correctly and more deeply (2 Tim. 2:15), I am developing and strengthening my biblical worldview.  As you do this week after week another brick is laid in your spiritual fortress (2 Cor. 10:4-6).  How practical and relevant is this?  You and I take our (biblical) worldview with us into every single context of life.  When we are watching the news, when we are reading a blog article, when we go to the movie theater, etc.  Even if Sunday's sermon was not directly applicable to your life the following day (or week), that does not mean you were shortchanged.  We mustn't be shortsighted as we listen to the perfect Revelation of God, but keep the big picture in mind.