No one can escape death and dying, and at one point all of us will have to consider what it means to die well. The importance of dying well can be summed up in the venerable words of Captain Kirk, "Has it ever occurred to you that how we deal with death is at least as important as how we deal with life?" As Christians, we of all people should embrace the importance of finishing well. Consider Hebrews 3:14: "For we have become partakers of Christ, if we hold fast the beginning of our assurance firm until the end." For a believer, finishing well is part of what it means to be a partaker of Christ.
This is why many believers have considered not only what it means to die but how to die. Although it may sound like a morose subject to consider, Christians through the ages have pondered how a believer ought to die.
Having considered the fact that people die, the Puritans concluded that a person should aim to "die well." By "dying well," they mean that a person should accept death with his wits about him, while remaining faithful to the Lord. Since definitions such as these can sometimes ring hollow, I want to provide to you a concrete and storied example of what it means to die well.
To that end, I can think of no better example than Polycarp. This second century pastor of Smyrna met death in such a way as to qualify as dying well. If you have never thought about this before, then the story of Polycarp might help you consider what it means to die well, strong in the faith until the end.
During a time of intense persecution, many Christians held fast to the faith. Early Christians described the pains of martyrdom in this way: "For even when they were so torn by whips that the internal structure of their flesh was visible as far as the inner veins and arteries, they endured so patiently that even the bystanders had pity and wept" (Mart. Pol. 3.2). Those that died faithfully to the Lord were granted a measure of honor and respect from other believers, and ultimately from the Lord himself (Matt 10:32).
In the face this sordid form of execution, Polycarp remained faithful. In fact, when he first heard that the Romans sought his life, "he was not disturbed, but wanted to remain in town" (Mart. Pol. 5.1). But his congregation had others ideas and begged him to hide. So he did. During this time in hiding, he spent his days and nights in prayer. One day, he turned and said to his companions, "it is necessary that I be burned alive" (5.2). Soon thereafter he was found out.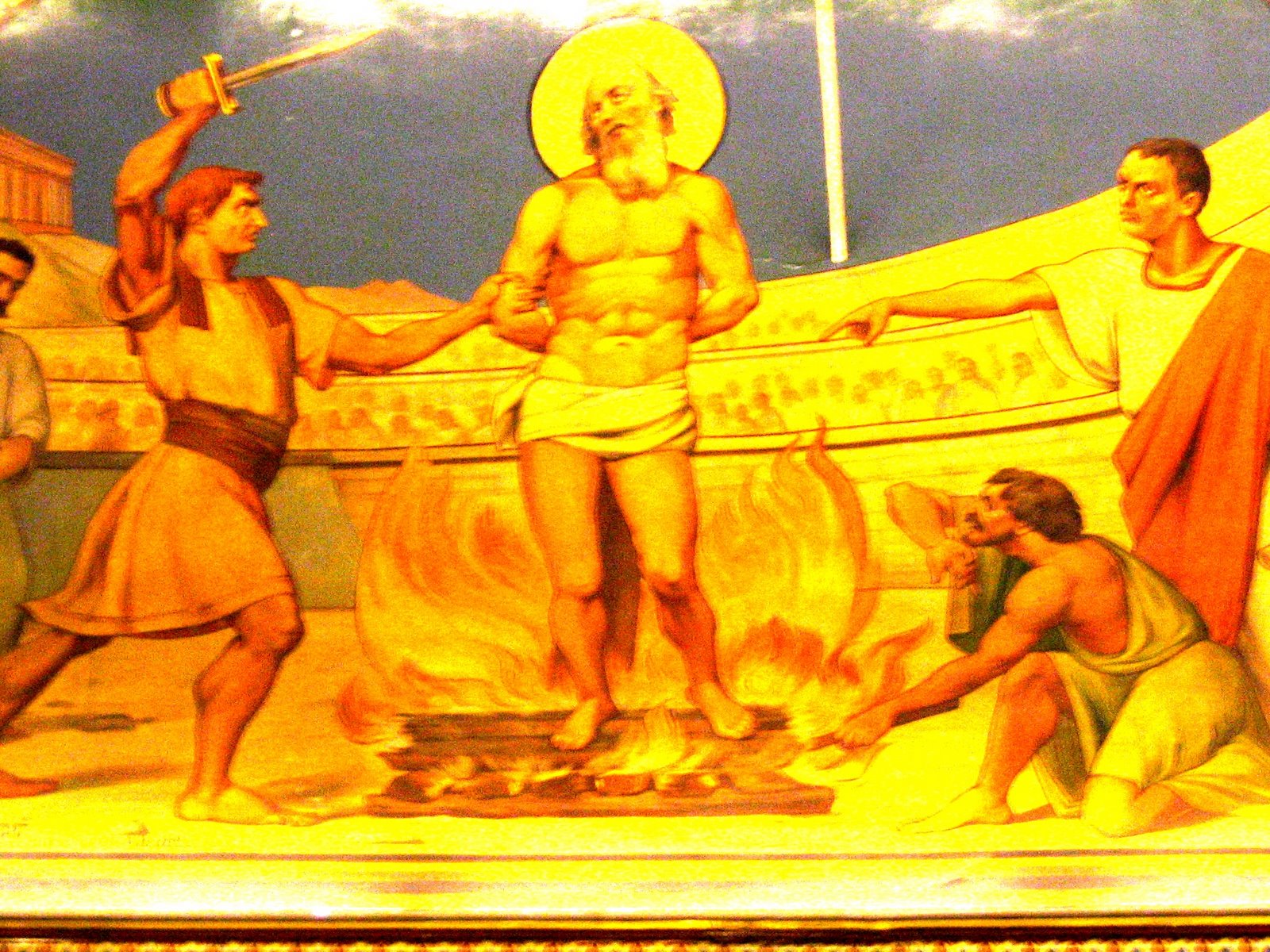 Accepting his death, when the police burst into his residence, he simply said, "May God's will be done" (7.1). The soldiers found him waiting and composed. Polycarp even offered to feed the tired police. After all, they had spent so much time trying to find him!
The police captain, Herod by name, brought him before his father Nicetes, and they tried to convince him to repent of his faith in Christ. They said, "What's wrong with saying, Caesar is Lord (Κύριος Καῖσαρ)?"(8.2). Polycarp replied with silence at first, and then later said he would not be persuaded to repent of Christ. After a while, Herod and Nicetes (who incidentally was not very nice) beat him and led him to the stadium to meet death.
At the stadium, Polycarp saw a crowd call out for blood and a Proconsul who relished judgment. The proconsul told Polycarp to consider his age and act responsibly. For someone at his old age, why risk death for such a foolish thing as the Christian faith? "Swear by the genius of Caesar," the Proconsul demanded, "repent! Say, away with the atheists!" (for Christians denied the pagan gods; 9.2). He continued on for a while in this way, finally demanding that Polycarp "revile the Messiah" (9:3).
At this final threat, Polycarp braced himself and replied, "For eighty-six years, I have served him and he has done me no injustice. How can I blaspheme my king who saved me" (9.3). Although the Proconsul continued to threaten more and more, Polycarp would not repent. They soon thereafter tied him to the stake and burned him alive, just as Polycarp had expected.
You might wonder why I wonder I wrote on dying well. After all, in North America we probably will not have to worry about the government killing us simply for being Christians. However, we all have to worry about how we die, and Polycarp serves as an example of man not afraid of death, but who remained faithful to the Lord until the end. Will we likewise face death, strong in the Lord, confident in the end or will we slide away slowly, creeping away from the faith, from our Lord who saved us? Polycarp stands as an example and a reminder that we must not only consider our life and our after life, but we must also think on how we will meet death.