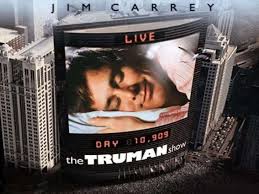 Director Peter Weir's modern masterpiece, The Truman Show (1998), is about a kid who is adopted by a broadcasting network. Unbeknown to the young Truman—but relished by anyone with a cable subscription—his every waking moment is being broadcast on live TV.
Truman's whole life is spent in an island town (which is actually an elaborate movie set) and his entire family, friendship circle, and everyone he interacts with are all paid actors. Their lines are fed to them by improvising scriptwriters via earpieces.
This masquerade goes on for decades with flawless execution, except for a few comical glitches like stage lights falling from heaven and fame-seekers who crash the set.
The perpetual ruse effectively dupes the adult Truman, played by the inimitable Jim Carrey, into living a life in which he is literally the center of attention all day, every day. The sun rises and sets for him and the weather is altered to create the director's desired ambience. Truman is the reason for the season…and for everything else that happens in his world.
It's a poignant and thought-provoking story.
But sadly, there is real-life tragi-comedy being played out in society today. Many people pass their days as if they are a self-aware version of Truman. They function as if they are meant to be the center of the universe. They actually get upset when the backdrop, like the weather, doesn't meet their expectations. They become disenchanted when personal plans and desires are not quickly championed by everyone else. They have a near existential crisis when the economy, the political scene, or the people in their lives don't behave the way their self-directed script would prefer. It's almost as if they are disappointed that they can't fire the actors who refuse to collaborate with their script.
Some people behave exactly as if they were raised to believe everyone and everything exists for them.