Every church has its problems. There are no perfect churches. But there are some churches that are so bad that they make atheism look appealing. Anyone compiling a list of worst churches in the world would need to consider, as a top candidate, the notorious Westboro Baptist Church in Topeka, Kansas.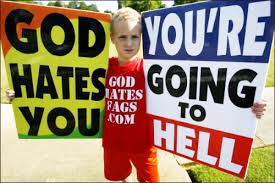 Founded in 1955 the church began with promising doctrinal standards. They called themselves Christian, Biblical, Baptist, and even Calvinistic. They took a strong view on inerrancy, the need for repentance, and the Lordship of Christ. But it soon became evident that the church lacked one virtue vital for anyone who bears the name of Christ: the church has no love. I realize that's my opinion, but let the evidence help you decide if they show love.
WBC has been officially categorized by a number of organizations as a hate group. They are most known for the abrasive slogans used when protesting homosexualty. The members picket funerals of homosexuals with signs declaring "God hates fags," God hates you," "God hates America," and "You are going to hell."
They don't only hate homosexuals. They also vocally express hatred for Jews, Catholics, Nelson Mandela, the US Army, the Swedish, and countless politicians. And just to toss their wet blanket of prejudice over billion or so more, they host a website called GodHatesIndia(dot)com.
I'm not saying they express disagreement with these groups. I'm saying they express hate.