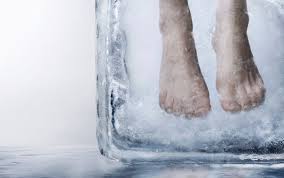 Larry King is getting cold feet about dying. The iconic interviewer has a reputation that is larger than life, but is fixated on his own death.
In the New York Times article titled, "Larry King prepares for final cancellation," Mark Liebovich reported that King told the journalist he was avoiding death by taking four human growth hormone pills every day, but that in case of death, has arranged to have his whole body put on ice pending the discovery for a cure for whatever killed him.
Cryonics is the process of dropping a human body's temperature to -200F. The idea is to wait until the remedy for your disease is perfected and then they basically pop you into the microwave, thaw you out, and cure the revenant you…until you contract the next incurable, life threatening woe, whereupon I suppose you would hop back in the freezer and repeat the cycle.
In theory, if you avoided fatal accidents you could conceivably live happily ever after by dint of intermittent jaunts in the freezer. There are only a few problems that still need to be ironed out…