"For to you it has been granted for Christ's sake,
not only to believe in Him, but also to suffer for His sake."
– Philippians 1:29 –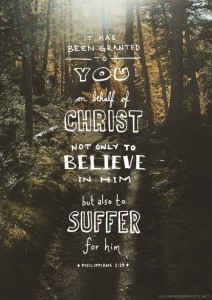 This text, along with the rest of the New Testament (cf. John 16:33; 2 Tim 3:12; Jas 1:2–4; 1 Pet 4:12–16) establishes beyond a shadow of a doubt that suffering inevitably comes to the true believer in Christ. Last week's Supreme Court ruling, which mandated all 50 states to redefine marriage, is a loud and clear statement that all who do not conform to the new (im)moral orthodoxy will not be tolerated in contemporary society. For those who submit to the authority of the Word of God, suffering, in one form or another, is sure to come.
But a question we need to ask is: Where does it come from? Does suffering originate merely in the hostility of the opponents themselves? Does it come from a random, chaotic, uncontrolled universe, so that we've simply drawn the short straw and need to make the best of things? Does it come from some impersonal governing force like fate, so that we just have to grin and bear it? Does suffering ultimately come from Satan or demons?
Ultimately, we have to answer, "No," to all of those questions. Ultimately, suffering comes from God. You say, "How do you know that?" Well, for a couple reasons. One is that Scripture calls God the one "who works all things after the counsel of His own will" (Eph 1:11). "And we know," Romans 8:28, "that God causes all things to work together for good to those who love God and who are called according to His purpose."
All things. Not just the good things. And not: "God turns all the bad things into good things for those who love Him." God doesn't just make the best of a bad hand He was dealt. He ordains all things for His purpose to glorify Himself. Joseph said that in Genesis 50:20: "You meant it for evil, but God meant it for good." Job says the same thing: "The Lord has given, and the Lord has taken away" (Job 1:21). "Shall we indeed accept good from God and not accept adversity" from Him as well (Job 2:10)? And as Jeremiah stands in the rubble of the ravaged city of Jerusalem at the time of the Babylonian invasion, he asks, Lamentations 3:37, "Who is there who speaks and it comes to pass, unless the Lord has commanded it? Is it not from the mouth of the Most High that both good and ill go forth?"