There is no Workaholics Anonymous. Why would there be? Overwork isn't a hamartia in our society's currency-lubed, prestige based, multitasking rat race.
Gambling, pornography, cocaine, booze, and most other addictions carry a stigma of shame associated with weakness or dysfunction. But for some reason the caffeinated crew of interns at work broadcast their exhaustion with feigned self deprecating whines of "Sorry I'm so spaced today. It's because I pulled three all-nighters and haven't had a day off since the Blackberry was invented."
Everyone in a cubicle thinks he's Jack Bauer. Is it possible your job isn't important enough to global stability to warrant the hours you put in? If that suggestion prickles your pride, then perhaps your dedication to the corporate fiefdom isn't as noble as you make it out to be.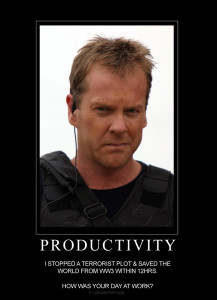 I don't have a definition for what constitutes too much work, but we all know people whose lives are affected detrimentally by their workload. If, thanks to work, your family is disintegrating, your health is deteriorating, and time for God's priorities (e.g. attending and serving in church) is disappearing then your schedule is unbalanced.
One of the reasons God made Sabbath for mankind is so that we will rest from our labor regularly enough to worship him devotedly, and recuperate sufficiently to sustain a long, productive, God-centered life.
And the hubris of an overstuffed day planner isn't limited to Silicon Valley Microserfs, Wall Street moneygrubbers, or medical residents. Students, housewives, and pastors all glory in the shame of their limitless spirit being more willing than their sleep deprived flesh.
As a seminoid I loved that the strong coffee for sale in the break room was labeled "Lazarus Blend." We sported dark rings under our puffy eyes and disheveled clothing (who has time to iron), and if someone remarked, "You look like death!" that was a compliment.
Here are five possible reasons for overworking: