Private First Class John Eddington held his newborn daughter, Margret, in his arms shortly before he was deployed to liberate Europe from the Nazi occupation. The year was 1944. Before his departure he composed a poignant three page letter expressing his intense love for baby Peggy, as he called her.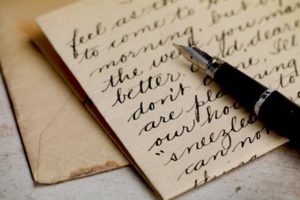 Almost immediately upon arriving in Italy, PFC Eddington was killed in action.
His wife kept the precious letter in a box in the attic for the day Peggy would be old enough to read it for herself. But as time passed Mrs. Eddington forgot about the existence of the letter, and almost never mentioned her late husband. Consequently, Peggy grew up never knowing how much her father loved her.
But in 2014, someone rummaging through Peggy's late mother's possessions discovered the box containing a letter addressed to "My Darling Daughter." The letter was delivered to its rightful recipient. When Peggy, now seventy years old, read the letter she learned for the first time what had been in her father's heart when he got news that he was leaving for the war. He assured her that she would always be on his mind.
"I love you so much," John had written. "Your mother and daddy … are going to give you everything we can. We will always give you all the love we have." He concluded with the words: "I love you with all my heart and soul forever and forever. Your loving daddy."