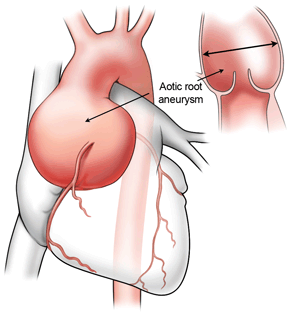 As mentioned in a post a few months ago, I have was born with a condition called Loeys-Dietz syndrome. One of the symptoms is aortic aneurysms which often necessitate a procedure that removes the damaged ascending aorta and replaces it with a synthetic one. In God's good providence, I underwent this procedure about 8 weeks ago.
I found it a spiritually enriching and sanctifying experience. Many of the physical or medical lessons have direct application to life in Christ. Here are a few lessons learned:
It takes very little to end our lives.
Loeys-Dietz syndrome causes your connective tissue throughout the body to stretch a bit. Subsequently, a few inches of my aorta, just off the heart, swelled a mere 10 millimeters in diameter. That's less than half an inch. And yet it's enough to kill instantly, should it pop. After the procedure, my surgeon said that the aortic tissue was weak, paper thin, and ready to go.
In the case of a stroke, for example, a particle hardly visible to the eye is enough to send us back to dust. A little bug/virus invisible to the naked eye can do the same. Or deprived of air for a few minutes. Or a little cut in the right place. And on and on we could go. It takes very little to send a human back to the dirt from which he came.
Pre-op and cardiac operating rooms are great equalizers.
Typically we think of death and judgment as the great equalizers. While that is true, the pre-operational and operating rooms are a close second.
The whole cardiac pre-op experience is fascinting. It's busier than Chicago's O'Hare airport on a Monday morning, hustling and bustling with nurses, CNA's, anesthesiologists, surgeons, transporters. There are individuals with the title, "The Pre-Op Barbers," who are tasked with trimming you down below the neck.
All of us in pre-op were clothed identically: those white and light blue dotted surgery "gowns," which are little more than a fig-leaf like implement for nakedness. Then, those deep purple socks with rubber diamond-shaped grippies on both the top AND bottom (in case you forget which is the top and bottom of your foot). Outside of cardiac pre-op, you might be a rocket scientist, a stay-at-home mom, a Nobel Prize winner, professional athlete, or president of the United States. But it matters not inside pre-op. You are a fig-leaf-gown wearing, grippy-socks-sporting, son of Adam who is hastening to the dust, and nothing more.
And this fact is accentuated once you're wheeled away to the OR. It's a surreal experience; the possibility that death awaits as you enter the no-turning-back zone. In a moment of unintended morbid comic relief, the lead anesthesiologist casually mentioned to me as he and his team were wheeling me out of pre-op, "You know, there's a bit of a risk with this procedure." Heh, thanks… And off I went.
The OR was no less extraordinary. Machines and gadgets filling a large, high-ceiled room which were the product of centuries of blood, sweat, dollars, and tears. A couple guys introducing themselves to you as "Dr. So-and-So," while others prepared instruments, and things like the "sternum saw." There were something like 20 people scurrying around the OR. You are asked to prop yourself up and onto the hard-rubber operating table. And then it happens. Dr. Anesthesiologist (aka the "OR Pusher") says, casually, "I'm giving you a little something to relax you…" And 3 seconds into a very happy feeling, it's lights out for a 12-hour nap.
Pre-op and ORs are great equalizers.
God has made the human body a masterful machine.
By necessity, going through surgery involves a crash-course in anatomy and physiology. Aortic replacement surgery gave me a new appreciation for God's masterful wisdom in designing the human body. The heart, and its functions, for example, is simply incredible.
During the average lifespan, the heart will beat 2.5 billion times and pump about a million barrels of blood. Every day, your heart moves your blood about 12,000 miles. And things get way more complex when we start talking valves and aortas.
During aortic replacement surgery (apologies for the remedial explanation), surgeons must stop the heart in order to cease blood flow into the ascending aorta. To keep you alive, they hook you up to an incredibly complex and expensive machine called the "heart and lung" machine (an invention which revolutionized open-heart surgery several decades ago). Stopping the heart is highly complex in itself. To do so, among other things, they bathe your heart in potassium-enriched water at about 38F. This puts the heart into a sort of hibernation. After the bad portion of the aorta is removed, and the synthetic sewed in, the heart is slowly "warmed" up, which then causes it to start beating again. All the while, the sternum is sawed completely in half, the heart valve is spared, attached to the synthetic aorta, and the patient kept alive. The fact that the body can withstand such things, and heal, testifies to God's extraordinary wisdom.
We need to be ready to die.
Though the risk of death was low for this surgery, I still needed to ask myself, "Is the way I'm living today before God appropriate as if it was my final week or month?" For the most part, we should be living like we would want to if it was. It only makes sense since we cannot boast about tomorrow (Prov. 27:1).
Following the mantra of Jonathan Edwards, we ought to live according to his seventh resolution: "Resolved, never to do anything, which I should be afraid to do, if it were the last hour of my life."
Near-death experiences are good for the soul.
I'm not referring to foolish experiences to taunt and tease death, but those which are the product of life's battles and fallenness.
All of life, really, is a near-death experience. Being mere human, death is always near.
But there is unique benefit to those particular moments when our toes are hanging over death's edge. There is a new sobriety in life. There is a new healthy fright at the power of God and frailty of self. There is a new preparedness to enter eternity. Life in Christ and love for Scripture becomes sharper.
Developing leaders and mentoring others is essential to promote advancement and excellence in any field.
During my recovery, whenever I visited, or was visited by medical professionals, they never came alone. There was always a team of individuals. And when the head surgeon or physician spoke with me, he or she always had at least one disciple shadowing them. The disciple's eyes were intently focused on their mentor, as they took notes. During my surgery, three generations of surgeons were present: the seasoned guy who pioneered the procedure, his accomplished disciple, and that disciple's younger disciple, called a "fellow." Because of the complexity of the procedure, the seasoned surgeon and his disciple perform it together. However, the fellow is also allowed to perform a few moves as his mentor observes and coaches.
So it should be in the church: "[W]hat you have heard from me in the presence of many witnesses entrust to faithful men who will be able to teach others also" (2 Tim. 2:2; cf. Titus 2:3-5). In this verse are four generations of discipleship: Paul, Timothy, those Timothy would disciple, and those disciples' disciples. It's a brilliant design. And should be highly normal in our churches.
I wonder how much more godliness and biblical productivity we might experience in our churches if we were more diligent to take up this model. Despite what is often propagated in American churches, normal Christianity is not about a few pastors and zealous Christians on the field making disciples while the other 97% of us kick back in the grandstands, vicariously living through those on the field. Rather, it's about local church leadership training and nudging every single one of the 97% to be on the field, getting equipped to joyfully make disciples who make disciples. This is the model of medical professionals, and their excellence is a product of that. Local churches ought to be doing the same.
A competent wife is a priceless asset.
God knew what he was doing when he designed this individual of whom he said, "…a helper suitable" (Gen. 2:18). The scope of that statements is incalculable. Most of us guys really need a competent wife.
By God's grace, my wife has shown herself heroic every day over the past 8 weeks of my recovery. She slept on hard chairs in the ICU next to other moaning patients, endured my complaining, confronted my sin, pointed me to Scripture, helped me in the most humbling of ways which would not be appropriate to describe here, not to mention figuring out medical bills and insurance and scheduling and on the phone with hospitals, etc., etc.
The saying is true: "He who finds a wife finds a good thing and obtains favor from the Lord" (Prov. 18:22).
God has given incredible skill to mere men.
The knowledge and skill to pull off a surgery like this is mind-boggling. In a journal article on this procedure, one of the pioneers said, "Patients should seek out a cardiac surgeon who has considerable personal experience with valve-sparing aortic root replacement, as the learning curve can be steep. This procedure is unforgiving in terms of small technical errors, and truly is based more on 3D geometric thinking and 'art' than it is on science."
God has shown his common grace in the form of giving sinners amazing skill. My main surgeon, though fairly young, has two doctorates, has received many awards, teaches surgery to medical students, and spends four days/week fixing aortas and hearts. Patients are regularly sent to him because few care to deal with aortic disorders and he has the lowest operating-room fatality rate around.
Exerting effort to progress is considered a sign of health and life.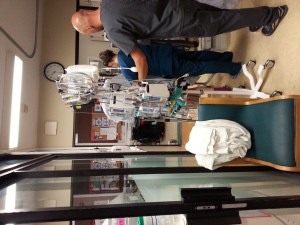 Immediately after surgery, doctors and nurses expected me to push myself in the healing process. The morning after surgery, cardiac therapists showed up at my bedside in the ICU, commanding me to sit up on the bed, get up, and take a few steps (with a walker). And, despite chest tubes and pacer wires hanging out, they expected us to practice coughing to avoid pneumonia. Once moved to the non-ICU cardiac recovery, the expectation increases. Every day therapists came in with respiratory gadgets to exercise the lungs. Regardless of nausea, pain, and weakness, nurses expected us to get up and start walking around the floor. They said that for every day we did not get out of bed, we add a few days to recovery. The saying in cardiac rehab is, "Pushing yourself to get up and walk around is the best medicine."
And regardless of your age, if you are not trying hard to recover and progress in cardiac rehab, then medical professionals conclude that something is wrong.
So it is when it comes to sanctification for the Christian. We are to discipline ourselves for godliness (1 Tim. 4:7) and work out our salvation by faith in God's power (Phil. 2:12-13), so as to bear increasing fruit by Christ's grace (John 15:4-5). And if we are not exerting effort to grow in godliness, then something is wrong (John 15:6). Increasing fruit-bearing is as normal to the regenerate as apples are to a living apple tree.
All the pain, sickness, and surgery here serve as arrows to heaven.
It's hard to envision what that doctor-less and surgeon-less utopia will be like. When I told my hospital roommate about a painless heaven, he said, "That's hard to imagine." But we can be sure of this: pain, surgery, sickness, sin, and death will become mere shadows, all by faith in the Person and finished work of Jesus Christ (Rev. 21:4).
And until that great day, we press forward, striving together according to the grace and power of Christ.