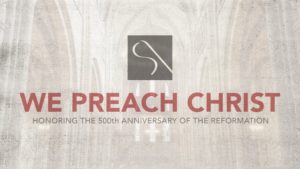 Today begins one of my favorite weeks of the year; the annual Shepherd's Conference. This year's conference is unique, however. Fourteen keynote speakers have assembled from around the world to speak with one voice on the greatest movement of God in church history since Pentecost; the Protestant Reformation. With 2017 marking the 500th year anniversary of the Reformation, it is an opportune time to gather accordingly.
But, why such a big to-do? For centuries, faithful pastors and exegetes have spilled much ink on the necessity of Christianity's break from Rome. We could talk about errors, for example, from Rome's doctrine of the saints to celibacy; from Mary to the mass; from indulgences to inspiration; from purgatory to the papacy. But, there is one simple reason why coming to Christ requires breaking from Rome.
The apostle of grace sums it up:
"But even if we, or an angel from heaven, should preach to you a gospel contrary to what we have preached to you, he is to be accursed! As we have said before, so I say again now, if any man is preaching to you a gospel contrary to what you received, he is to be accursed!" (Galatians 1:8-9)
Tragically, Rome teaches a contrary gospel. Her doctrine reads as follows in Canon 30 of Chapter 16 from the Council of Trent:
"If any one saith, that, after the grace of Justification has been received, to every penitent sinner the guilt is remitted, and the debt of eternal punishment is blotted out in such wise, that there remains not any debt of temporal punishment to be discharged either in this world, or in the next in Purgatory, before the entrance to the kingdom of heaven can be opened (to him); let him be anathema."
In other words, if you believe that God declares a sinner permanently righteous and forever forgiven of all sin on the basis of faith alone in Christ alone, with the result that no further punishment exists for sin, then Rome considers you accursed.
How does this match up to the biblical gospel?
"For we maintain that a man is justified by faith apart from works of the Law" (Rom. 3:28).
"Therefore, having been justified by faith, we have peace with God through our Lord Jesus Christ" (Rom. 5:1).
"…not having a righteousness of my own derived from the Law, but that which is through faith in Christ, the righteousness which comes from God on the basis of faith" (Phil. 3:9).
Roman Catholicism teaches a gospel contrary to that of Scripture. She proposes a way to heaven that leads to hell; a way of forgiveness that leads to condemnation; a way of righteousness that renders one guilty; a way of salvation that leaves one lost. Scripture teaches that righteousness is credited by God to the sinner on the basis of faith alone in Christ alone. Rome teaches that righteousness is credited by God to the sinner on the basis of faith plus works.
Make no mistake, Rome's gospel is works-based. Her entire system declares it so. The doctrine of purgatory declares a works-based righteousness: souls need further atonement for sin after death. The doctrine of the eucharist declares a works-based righteousness: the weekly re-sacrifice of Christ in mass becomes meritorious. The doctrine of saints declares a works-based righteousness: only the saints have full assurance of heaven. Rome's relics, indulgences, and Jubilee years also declare a works-based system. For that, Rome qualifies her entire system as "accursed."
Roman Catholicism is a system of works-based righteousness, and therefore, a false religion. It is an utterly separate religion from biblical Christianity. The issue was settled 500 years ago. To legitimize Rome's gospel is a radical regression; like legitimizing bloodletting as medical treatment and phrenology as neuroscience, only worse.
God's people must recognize Rome for what she is; a blasphemous offense to the Lord Jesus Christ. For Christians to indicate otherwise to Catholics is an extreme violation of love. Eternity is at stake. We must be clear: For a soul to be saved, they must flee Rome. Coming to Christ means breaking from Rome.
Five hundred years ago, the God of the universe orchestrated the Reformation to rescue the saving gospel from Rome. The blazing light of God's grace shines in the darkness. We plead with Catholics to receive the free gift of justification by faith alone in Christ alone.
"For Christ also died for sins once for all, the just for the unjust, so that He might bring us to God" (1 Pet. 3:18).
If you cannot attend the conference, be sure to check out the livestreamed sessions for what is sure to be a time of rich edification in celebration of the saving gospel of Jesus Christ.