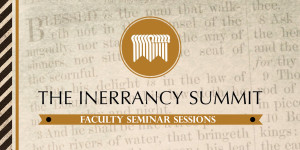 I published this yesterday over at Preachers & Preaching. I'm re-posting it here for any Cripplegate readers who may not have seen it there.
Last week, MP3 audio of the TMS faculty breakout sessions from the 2015 Summit on Biblical Inerrancy was put on the The Master's Seminary media page.
These seminar sessions were in addition to the main sessions, which can be found at this link.
The seminars are listed below in alphabetical order of the speaker.
William D. Barrick — Tough Texts and Problem Passages: Evaluating Alleged Contradictions on the Pages of Scripture
Nathan Busenitz — The Ground and Pillar of the Faith: The Pre-Reformation Witness to the Doctrine of Sola Scriptura 
Abner Chou — Where Old Meets New: Inerrancy in Light of the New Testament Writers' Use of the Old Testament 
Austin Duncan — What's Missing from Your Church Service? Recovering One of the Most Neglected Components of Public Worship
F. David Farnell — The Danger Within: What Happens When Evangelicals Redefine Inerrancy 
Michael Grisanti — Unearthing the Truth: How Modern Archaeology Affirms the Bible 
Brad Klassen — Has God Really Said? Divine Clarity and the Doctrine of Inspiration 
Steven J. Lawson — God's Fugitive: The Daring Mission of William Tyndale
Richard Mayhue — The Final Word: The Inseparable Link between Inerrancy and Biblical Authority
Michael J. Vlach — Letting the Lion Out of Its Cage: The Primacy of Scripture in Presuppositional Apologetics
Matt Waymeyer — Men Moved by God: Dual Authorship and the Doctrine of Inerrancy