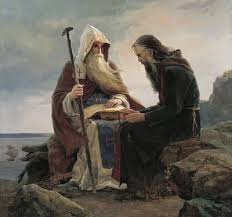 Upon Gino's acceptance into a monastic order which emphasizes silence he is told that he will be allowed to speak only two words to the abbot every ten years. On his first night he finds that a rat has invaded his mattress and most of the stuffing is gone. He can barely sleep on the thin mattress. Being very dedicated, he endures the situation for a decade. When finally in front of the abbot, Gino cautiously offers, "Mattress thin."
Presently workers arrive with a brand new mattress. However, upon their departure Gino discovers that they've accidentally broken his window. Icy winds blow all winter and torrential rains flow all summer.
Ten years later Gino despondently reports: "Window broken." The window is immediately repaired to Gino's delight, as he anticipates his first night of cozy sleep in two decades.
However, climbing into bed he realizes that the workmen have accidentally broken the leg of his bed. The bed is tilted at a crazy angle and all night he finds himself sliding down. Ten more years pass slowly. Finally, Gino finds himself before the abbot again and declares: "I quit!" The head monk snaps back, "Good riddance! Since you arrived you've done nothing but complain!"
After pondering my previous two posts in this mini-series (here and here) on complaining some of you are probably feeling a bit like Gino—that if you say two wrong words, you'll be branded a complainer. I hope to offer some relief.
Phil 2:14-15 "Do all things without grumbling or disputing, that you may be blameless and innocent, children of God without blemish in the midst of a crooked and twisted generation, among whom you shine as lights in the world."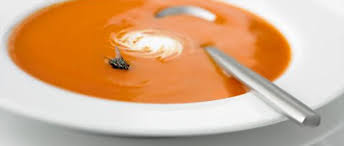 E.g. There is a fly in your soup. You want something done about that, but you now know that griping is never godly. So, do you…
a) yell at the waiter?
b) rant to your spouse about how standards are slipping?
c) get your Facebook friends to boycott the restaurant?
d) pray for death like Jonah did?
e) just suck it up— suck up the soup, suck up the fly, and say a prayer of thanks when you're done?
f) none of the above?
Are Christians just always supposed to suck it up? No. You can respond without sinful grumbling and disputing, just bear these five principles in mind:
1) Do unto others…
Matt 7:12 "Whatever you wish that others would do to you, do also to them, for this is the Law and the Prophets."
If you were the waiter who wants a tip you would not want your customer to leave the soup and then just not leave a tip and never return to the restaurant. No, you'd want them to report the situation without making a scene or blaming you. And then respond well when you do something about it.
So do that.
As Christians we want to be part of the solution in a sin-cursed world and make things better. So let's do that. Lodge a complaint, write a letter, have a conversation, you may even protest within the bounds of what the government allows.
2) Respect the authority God has placed in your life with the tone and manner of address.
Rom 13:2 & 7 "Therefore whoever resists the authorities resists what God has appointed… Pay to all what is due to them… respect to whom respect is due, honor to whom honor is due."
While the waiter isn't in authority over you, the government, your church leadership, your husband, your parents, your boss are. There are a myriad opportunities to give feedback to those in authority and you need to do so respectfully, using legitimate channels that have been provided.
Jesus responded respectfully to Pilate because he understood Pilate was God's authority over him at his trial. John 19:11 Jesus answered him, "You would have no authority over me at all unless it had been given you from above. Therefore he who delivered me over to you has the greater sin."
That is remarkably gracious considering the guy was about to sentence Jesus to death.
Even when those in authority over us are wrong, we still acknowledge God's authority through them.
3) Acknowledge God's sovereignty in the situation.
Rom 9:20 "But who are you, O man, to answer back to God? Will what is molded say to its molder, 'Why have you made me like this?'"
God is in control of all things, so maybe God allowed this trial in your life for a reason that has more to do with making you like Jesus than making you comfortable.
Do you think Jesus liked being betrayed by a friend? No, but he didn't post a vitriolic rant about Judas on Twitter. He understood this was part of God's plan.
4) Offer a solution if you have one.
I love what the young Daniel did when he didn't want to eat Babylonian food.
Dan 1:8, 12, 13 "… Therefore he asked the chief of the eunuchs to allow him not to defile himself. …"Test your servants for ten days; let us be given vegetables to eat and water to drink. Then let our appearance and the appearance of the youths who eat the king's food be observed by you, and deal with your servants according to what you see."
This is brilliant. Daniel didn't kvetch, "I'm Jewish and I don't eat Babylonian B-B-Q, so get me some veggies." He proposed a win-win solution.
5) Be ready to respond in a godly way if your supplication is denied or ignored.
Remember how Paul responded when God would not remove the thorn in his flesh?
2 Cor 12:9 "Therefore I will boast all the more gladly of my weaknesses, so that the power of Christ may rest upon me."
If you keep these principles in mind, you can be part of the solution without spreading the contagion of complaining.