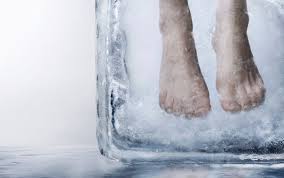 Larry King is getting cold feet about dying. The iconic interviewer has a reputation that is larger than life, but is fixated on his own death.
In the New York Times article titled, "Larry King prepares for final cancellation," Mark Liebovich reported that King told the journalist he was avoiding death by taking four human growth hormone pills every day, but that in case of death, has arranged to have his whole body put on ice pending the discovery for a cure for whatever killed him.
Cryonics is the process of dropping a human body's temperature to -200F. The idea is to wait until the remedy for your disease is perfected and then they basically pop you into the microwave, thaw you out, and cure the revenant you…until you contract the next incurable, life threatening woe, whereupon I suppose you would hop back in the freezer and repeat the cycle.
In theory, if you avoided fatal accidents you could conceivably live happily ever after by dint of intermittent jaunts in the freezer. There are only a few problems that still need to be ironed out…
First, no one has ever been successfully thawed. Our cells' walls are too fragile to recover from the process. So, part of the risk is hoping that someone in the future cures your disease and that someone else figures out how to raise you from the dead.
Second, it's illegal to perform cryonics on living people, so you have to die first. But, "…according to companies who perform the procedure, legally dead is not the same as totally dead."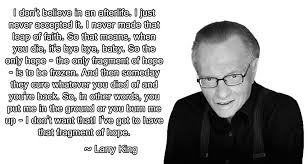 Any fan of The Princess Bride knows that sometimes people are only "mostly dead." But without a Miracle Max to do his thing, it's a giant leap of faith for mankind to entrust their lives to cryonics.
Liebovich also recorded this poignant detail: "King told me later that the people behind cryonics are 'all nuts'  but at least if he knows he will be frozen he will die with a shred of hope." To which King added, ''Other people have no hope.''
That sends chills up my spine. But why does being frozen seem extreme to us, while taking, say, blood pressure medicine seems prudent? And here's a more basic question altogether: is death really that bad? Is it something to be avoided at all costs, some cost, or is it actually something to be longed for, or even pursued?
Here are three texts for us to ruminate on this week, to renew our eternal perspective. They were penned by a Christian who was so "morbidly joyful" that the thought of dying actually made him happy.
Phil 1: 21-24 For to me to live is Christ, and to die is gain. If I am to live in the flesh, that means fruitful labor for me. Yet which I shall choose I cannot tell. I am hard pressed between the two. My desire is to depart and be with Christ, for that is far better. But to remain in the flesh is more necessary on your account.
2 Cor 4: 16-17 So we do not lose heart. Though our outer self is wasting away, our inner self is being renewed day by day. For this light momentary affliction is preparing for us an eternal weight of glory beyond all comparison,
2 Cor 5: 6-9 So we are always of good courage. We know that while we are at home in the body we are away from the Lord, for we walk by faith, not by sight. 8 Yes, we are of good courage, and we would rather be away from the body and at home with the Lord. So whether we are at home or away, we make it our aim to please him.
John Piper says, "The whole human race is homesick for God, without knowing it. When we go home to Christ there will be a contentment beyond any sense of security and peace we have ever known."
Christians are sometimes ridiculed for their faith in a resurrection from the dead. But all Christians have hope. And it's more than a shred of hope; it's the hope in the power and goodness of a God who raises the dead.
There is only one question you need to answer. It's the interrogative Jesus posed to his bereaved friend Martha:
John 11: 25-26 Jesus said to her, "I am the resurrection and the life. Whoever believes in me, though he die, yet shall he live, and everyone who lives and believes in me shall never die. Do you believe this?"
So there is no need for those in Christ to get cold feet about dying.