This is the final part of a three-part blog series where we asked Dr. Steven J. Lawson some questions about expository preaching, current issues facing evangelicals today and Expositor magazine.
Expositor is a ministry of OnePassion Ministries, which is a work I have founded to encourage and equip pastors in biblical preaching. It is a magazine that comes out every other month and is approximately 50 pages in each issue. I have asked many of the leading expositors around the world to contribute articles based around a central theme that each issue has. The first issue was on The Inerrancy of Scripture and Expository Preaching. The second issue was on The Glory of God and Preaching. The third issue was on Evangelism in the Pulpit. The fourth issue will be on Preaching in a Post-Modern World. Not only do I contribute an article in each issue, but so also does John MacArthur, who I believe is the premier expositor in our day. Other notable men who have written for us include R.C. Sproul, Sinclair Ferguson, Al Mohler, John Piper, Derek Thomas, and many others. We also have an extended interview with different leading expositors. For example, in our last issue, the interview was with R.C. Sproul and the focus was upon getting the gospel right. In our next issue, I interviewed Ligon Duncan regarding preaching in days such as which we find ourselves, in a post-Christian society. The goal in all of this is to raise a standard in these days that would call men back to biblical preaching.

What are some distinguishing marks of Expositor magazine?
The unique voice of Expositor magazine is that it is singularly focused upon the primacy of the preaching of the Word of God. While there are a few other magazines devoted to preaching, our magazine is committed to the kind of preaching that transcends centuries and generations. In other words, it is not preaching that caters to the modern ear and accommodates both the message and the medium. Instead, Expositor magazine calls men to preach the Word of God in a way that has stood the test of time. We are not looking for trendy techniques or gospel gimmicks to pass on to this generation of preachers. Rather, we are calling them to preach in such a way as has been modeled by formidable preachers down through the centuries.
What sorts of topics can Christians plan to see in forthcoming Expositor issues?
In future issues, I want to see us address many of the technical and practical specifics in expository preaching. By that, I mean devoting articles to matters such as exegesis, historical background, and the use of the languages. I also want us to focus upon showing the implications of the text, as well as how the preacher should be exhorting the listeners to respond to the preaching of the Word.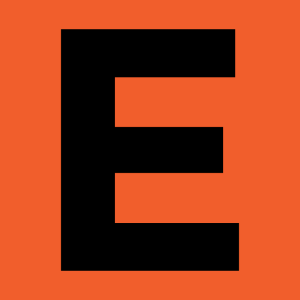 How can Expositor magazine be a help to a pastor?
First of all, we who are committed to biblical exposition can often find ourselves in a lonely place. By that I mean, very few people in the communities in which we live are committed to this sacred calling. By reading Expositor magazine, it provides a form of support and encouragement to a local pastor that there are other men like him who are committed to the same priorities in the pulpit. It is much like going to a pastor's conference on expository preaching. When you are there, you look around and see that there are many other people committed to the same discipline of expository preaching. By subscribing to Expositor magazine, I believe it will serve to have the same effect of encouragement.
Second, this will be an invaluable resource that every pastor would want his elder board to read. It reinforces what is at the heart of our philosophy of ministry, namely, our commitment to the preaching of the Word of God. If you desire your elders to know what is driving your passion for ministry, you want them to be reading this magazine. This magazine conveys the heartbeat of any pastor committed to the centrality of biblical preaching. So in this sense, it has a unifying effect for a church leadership team. Further, I would add that others who serve on the church staff, such as youth pastors, would want to read this magazine so they could have this mindset of the man who stands in the pulpit week by week.
Third, I think that any pastor would want his Sunday School teachers or leading Bible teachers in the church to read Expositor magazine. It will both encourage and equip these other gifted individuals in the church who have a supportive role in teaching the Scripture. Many of these Bible teachers have never had the luxury of going to seminary or having advanced education. This magazine will come alongside of them and help sharpen their ministry in the Word.
Dr. Steven J. Lawson is President and founder of OnePassion Ministries, a ministry designed to equip biblical expositors to bring about a new reformation in the church. He also is the Executive Editor of Expositor magazine.
Expositor magazine, the print magazine of OnePassion Ministries, is a bi-monthly publication through which we desire to address the historical, biblical, and theological dynamics and practice of expository preaching.
OnePassion Ministries exists to ignite a supreme passion for God and His glory in all people throughout the world. As our name indicates, the strategic goal of this ministry is to enflame hearts with an all-consuming desire for Jesus Christ and His gospel. Our primary aim for believers from every walk of life is that they be revived and emboldened to live exclusively for the greatness of God. This intentional focus is to impart the knowledge of the truth by equipping pastors and church leaders, maturing lay people, and launching a new reformation in the church today. Most specifically, OnePassion is committed to training pastors in expository preaching that is firmly anchored in proclaiming God's Word.
Contact OnePassion Ministries: contact@onepassionministries.org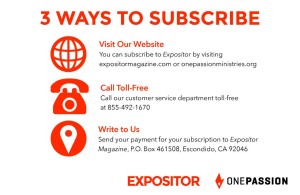 Subscribing to Expositor Magazine
One Year – $30 ($44 outside the U.S. and Canada)
Two Years – $55 ($79 outside the U.S. and Canada)
Three Years – $75 ($113 outside the U.S. and Canada)
(If you prefer to subscribe by mail, please send your check to Expositor Magazine, P.O. Box 461508, Escondido, CA 92046. Please make check payable to Expositor Magazine.)
Or, click here to subscribe.
Follow Expositor magazine on Twitter.