I can picture it already.
It's July 2038. The world's greatest sporting event is upon us. It's the World Cup final. Italy and Brazil are playing to win the cup. The two best teams are locked in a dead end tie.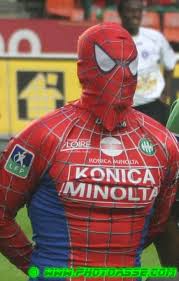 With thirty seconds left Brazil has the ball, and with the referee eyeing his watch they desperately make one final attempt to break the tie and avoid penalty kicks. After a great play the Brazilian striker receives the ball and takes an incredible shot from outside the box. He's scored several goals already during the tournament. This shot is just as good as the rest and it is sailing in the top right corner. But just as he lifts his hands in celebration Italian Goalkeeper Matteo Standridge, with a Spiderman-like dive, grabs the ball and doesn't just punch it away but miraculously catches it and holds on. With only seconds left he quickly punts the ball to his teammate, Nico Standridge whose quickness with the ball allows him to dribble several Brazilian players down the right side of the field; all of a sudden he lets off an incredibly precise cross right to the middle of the goal area. In the goalie box, Italian striker Davide Standridge rises above the three defenders around him and heads the ball in for the win.
The referee blows his whistle! Game over! Italy wins the World Cup, to the sheer joy of their father sitting in the front row.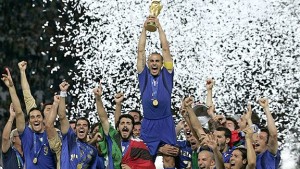 What is your greatest desire for your loved ones?
If you talk to many parents their answer will be 'I just want my kids to be happy '. but it doesn't take a rocket scientist to figure out that what they are actually saying is that they want their kids to make them happy.
Maybe they want them to be a doctor, an engineer, or a stockbroker. Perhaps experience earthly happiness derived from physical security or family not plagued by problems or divorce. A big family of their own full of healthy children; a long life exited by peaceful old age.
What do you want more than anything for your loved ones?
That they live a happy healthy long life? That they change the course of human history somehow? That they invent a new technology or even cure cancer?
I think it's time for us to dream bigger. A lot bigger.
In the first chapter of Ephesians, verses 3-14 are devoted by the apostle Paul, to describe all of the immeasurable blessings that are given by God to his children. He talks about election; predestination, adoption, redemption, forgiveness and ultimately, He gave the Holy Spirit as a sign of the inheritance that will be coming our way for eternity.
Twelve of the most glorious verses we have in all of scripture.
In verses 15-17 Paul tells us what kind of response is produced by a heart that has grasped the meaning of the previous twelve verses.
Paul says, "For this reason, ever since I heard about your faith in the Lord Jesus and your love for all God's people, I have not stopped giving thanks for you, remembering you in my prayers. That the God of our Lord Jesus Christ, the Father of glory, may give to you a spirit of wisdom and of revelation in the knowledge of Him."
In acts chapter 20 we find out that Paul went house to house in Ephesus preaching the Gospel to people with many tears. Here we have the greatest evangelist begging people to salvation and yet people remained stone faced in their love for their sin and hate for the Lord. Fast forward a few years and Paul in a Roman jail receives word that many of those whom he had spent time with for three years pleading with them to forsake their sin and believe in the Lord, have finally surrendered their lives to the Lord, and have a great love for fellow believers. Men and women, who hated the Gospel, now sit in the front row on Sunday mornings, in love with God's word and God's people.
And Paul says that this news is bringing him unspeakable joy and that he hasn't stopped giving thanks to God for their salvation.
What prompted this joy? Very simple, one cannot read verses 3-14 and walk away apathetically to such promises. Not only would a sensible person desire such blessings for themselves, but any human being would dream, that any loved would be able to experience these blessings as well. And Paul's greatest concern in life was that as many people as possible would join Him in worshipping Christ forever. When he heard that people he had invested time into and even shed tears over, had believed the Gospel, his joy (despite being in a Roman cell to face Caesar) was unending.
I need to ask you a question I've been asking myself lately.
What is your deepest concern for the people God has surrounded you with?
Is it their health? That they live a trial free life? That they win a meaningless soccer game?
So many parents say they want their child to be saved but then care more about their earthly accomplishments.
It is not our fault if our children don't believe. It is not because of us if they do.
What we are called to is to take Paul's example and desire above all else for our loved ones that they would be saved, and would join us in giving our Savior the praise he deserves.
We all dream about things for our loved ones,
Why not dream a lot bigger?
Why not desire for them eternal things rather than temporal fleeting things? Why not desire for them that they come to a saving relationship with Jesus? Why not desire for them to know God. There is nothing more important.
Make it your mission to tell them about the incredible God you know! Always remembering that it is the Lord who saves and we do not have the ability to convince. All we can control are two things:
One that our main desire for ourselves and others, would be to know God, and two that we open our mouths and declare to every creature the truth of the Gospel. The rest is up to God.
Honestly I would rather my children be martyred for their love for Jesus at a young age, than go through their entire lives with temporal earthly success (like winning the world cup) and even be extremely moral, but not know God.
How about you?