A few months ago I got to sit next to Congressman John Lewis on a flight from Atlanta back into Washington DC. If you are not familiar with him, Congressman Lewis is civil rights leader, and deserves much of the credit for getting African-Americans the right to vote. In 1963 he led the march across the bridge in Selma, was tear gassed by state troopers, and when he kneeled down to pray had his skull fractured by a police officer's night-stick.
He is the one who, instead of being taken to the hospital, groped his way over the TV cameras and appealed directly to President Johnson. With his face covered in blood he plead for the President to call off the police, and to grant black Americans the right to vote.
Lewis has been beaten by a police officer on a horse, fire bombed while ridding on a bus, and attacked by a mob for riding a bus with white people. In fact, I recognized him when he sat next to me mostly because the scar from his skull fracture is still visible, even after 50 years.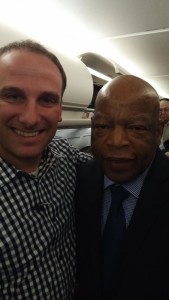 On the flight Congressman Lewis and I talked about theology. He is an ordained Baptist minister and has a seminary degree from American Baptist Theological Seminary. We talked about why he left pastoral ministry for Congress, and if he regrets the change. I thanked him for how he has made this country better, and for his courage to risk his own life in order to do that. And then I asked him if he had any advice for me, as a young(er) pastor.
He told me to make sure I am never weary of speaking out against injustice. He gave me advice about preaching ("keep it simple and clear; don't be too smart for your own good") and he told me that I should reject his grandmother's advice to "stay out of trouble." Instead, he said, I should be willing to get into "good trouble" for justice.
Yesterday a video was released of Planned Parenthood's medical director explaining how many Planned Parenthood facilities have refined their ability to perform abortions to maximize the profit from the baby's organs ("Yesterday I got my first order for lungs…sometimes people want legs, and I tell them legs are easy, I can get those…"). By using an ultrasound during the abortion, the abortionist is able to "crush below and above" the top selling baby organs.
Meanwhile, US law prohibits the sale of "fetus tissue and organs" if that sale was approved before the abortion. Moreover, Planned Parenthood was started by Margret Sanger as a way to limit reproduction of African Americans. Finally, keep in mind that Planned Parenthood opposes making birth control pills available over-the-counter.
#PlannedParenthood 1. Advises woman to have abortion $$$ 2. Receives federal funding $$$ 3. Harvests baby parts $$$ Genocide is lucrative.

— Jay Bauman (@baumanjay) July 14, 2015
Basically, their entire business model is structured around making birth control expensive, then doing cheap abortions, and then (the newly-revealed missing piece of their profit puzzle) selling the baby's parts.
When I was counsel for @40daysforlife, we usually found the dead babies in the Dumpster. I guess selling them for parts is an improvement.

— Emily Zanotti (@emzanotti) July 14, 2015
To me, the connection between the civil rights movement and the pro-life movement is obvious. Both oppose radical social injustice that had become institutionalized. Both segregation and abortion were overtly meant to control the African-American population. Both dehumanize people to the extent that they are treated like property. And now the historic connection to slavery is even more evident: both slavery and abortion are defended from the perspective of, "This person is my property, and I can sell him at a profit if I want to!"
It is still my hope that leaders like Congressman Lewis and others, who have been so vocal in the civil right movements of their generation, will see the wholesale slaughter of these image bearers as the real civil rights battle of our generation.