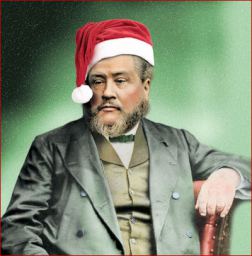 Charles Spurgeon had a love-hate relationship with Christmas. Because of the Roman Catholic influence over Christmas festivities (especially in England at that time) he wasn't a huge fan of it and went back and forth over encouraging his congregation to celebrate Christmas.
In his sermon called "The Birth of Christ" preached on December 24, 1854, he ended his sermon saying,
Now a happy Christmas to you all; and it will be a happy Christmas if you have God with you. I shall say nothing to day against festivities on this great birthday of Christ. We will to-morrow think of Christ's birthday; we shall be obliged to do it, I am sure, however sturdily we may hold to our rough Puritanism. And so, 'let us keep the feast, not with old leaven, neither with the leaven of malice and wickedness; but with the unleavend bread of sincerity and truth.' Do not feast as if you wished to keep the festival of Bacchus; do not live to-morrow as if you adored some heathen divinity. Feast, Christians, feast; you have a right to feast. Go to the house of feasting to-morrow, celebrate your Saviour's birth; do not be ashamed to be glad; you have a right to be happy. Solomon says, "Go thy way, eat thy bread with joy, and drink thy wine with a merry heart; for God now accepteth thy works. Let thy garments be always white; and let thy head lack no ointment."

"Religion never was designed To make your pleasures less."

Recollect that your Master ate butter and honey. Go your way, rejoice tomorrow, but in your feasting, think of the Man in Bethlehem; let him have a place in your hearts, give him the glory, think of the virgin who conceived him, but think most of all of the Man born, the Child given. I finish by again saying, —

"A HAPPY CHRISTMAS TO YOU ALL"
But in 1871 his tune changed a bit and he began his Christmas sermon with these words,
"WE HAVE NO superstitious regard for times and seasons. Certainly we do not believe in the present ecclesiastical arrangement called Christmas: first, because we do not believe in the mass at all, but abhor it, whether it be said or sung in Latin or in English; and, secondly, because we find no Scriptural warrant whatever for observing any day as the birthday of the Saviour; and, consequently, its observance is a superstition, because not of divine authority. Superstition has fixed most positively the day of our Saviour's birth, although there is no possibility of discovering when it occurred. Fabricius gives a catalogue of 136 different learned opinions upon the matter; and various divines invent weighty arguments for advocating a date in every month in the year. It was not till the middle of the third century that any part of the church celebrated the nativity of our Lord; and it was not till very long after the Western church had set the example, that the Eastern adopted it. Because the day is not known, therefore superstition has fixed it; while, since the day of the death of our Saviour might be determined with much certainty, therefore superstition shifts the date of its observance every year. Where is the method in the madness of the superstitious? Probably the fact is that the holy days were arranged to fit in with heathen festivals. We venture to assert, that if there be any day in the year, of which we may be pretty sure that it was not the day on which the Saviour was born, it is the twenty-fifth of December. Nevertheless since, the current of men's thoughts is led this way just now, and I see no evil in the current itself, I shall launch the bark of our discourse upon that stream, and make use of the fact, which I shall neither justify nor condemn, by endeavoring to lead your thoughts in the same direction. Since it is lawful, and even laudable, to meditate upon the incarnation of the Lord upon any day in the year, it cannot be in the power of other men's superstitions to render such a meditation improper for to-day. Regarding not the day, let us, nevertheless, give God thanks for the gift of his dear son."
Regardless of how he felt, we can be certain that Spurgeon saw Christmas as a great opportunity for evangelism and to bring attention to Jesus. And he loved poking at people's love for Christmastime as a reminder about the brevity of Life. Steve Lawson writes in his biography of Spurgeon called The Gospel Focus of Charles Spurgeon, that Spurgeon loved to warn the hearers about how death was around the corner.
Lawson writes,
"Spurgeon presented the gospel with severe warnings to lost sinners. If tender appeals, sound reasonings, compelling persuasions, and authoritative commands do not reach the unbeliever's heart, he believed, then stronger words are required. Spurgeon openly told those who persisted in unbelief of their impending danger of eternal condemnation. If they did not repent, he warned, they would certainly perish forever. Spurgeon often stressed the tenuous nature of life. For instance, he once asserted:"

"Are you sure that heart of yours is quite sound? Is the blood circulating with all accuracy? Are you quite sure of that? And if it be so, how long shall it be? O, perhaps there are some of you here that shall never see Christmas-day; it may be the mandate has gone forth already, 'Set thine house in order, for thou shalt die and not live.'"
Lawson goes on to quote Spurgeon,
There are some in this place, who if they were labeled this morning as to where they are going, would have to be directed "to hell." You know that this is the case. And when will you get to your journey's end? Some here may live another fifty years. I pray God that that question of mine may haunt you, and if it be never blessed to you before, may it be then, "When will you yet to your journey's end? When will you arrive in hell?" This morning may some of you in your hearts say, "I am journeying thither, but, by the grace of God, I have come to a dead halt, and not another inch will I go. Lord, make me ready to go to heaven, give me now to trust the Savior that I may live."
Spurgeon was no Buddy-the-Elf when it came to Christmas, in fact, he resembled the Grinch more, but no one can deny that he loved the opportunity Christmas created to exalt and point people to Jesus Christ. Despite the desire of so many atheists in this country, Christmas doesn't seem to be going anywhere, anytime soon. And wherever your heart resides on the spectrum of Buddy to Mr. Grinch I encourage you to heed Spurgeon's three reminders for us this Christmas, that we're not guaranteed another minute of life and we must be ready to see the Lord even today, that the incarnation must be celebrated in our hearts not once a year, but every day of the year, and that we must see this season as a great opportunity for the Gospel.
Merry Christmas!