Sgt Charles Daniels, a NYPD police officer, got an unusual call in the early morning of August 7, 1974. Someone had spotted a man standing on a wire suspended between the two tallest buildings in the world, the Twin Towers of the World Trade Centre. He ascended to the tower roof by elevator, which took several minutes. In his words, this is what he saw:
I observed the tightrope 'dancer'—because you couldn't call him a 'walker'—approximately halfway between the two towers. And upon seeing us he started to smile and laugh and he started going into a dancing routine on the high wire….And when he got to the building we asked him to get off the high wire but instead he turned around and ran back out into the middle….He was bouncing up and down. His feet were actually leaving the wire and then he would resettle back on the wire again….Unbelievable really….Everybody was spellbound in the watching of it."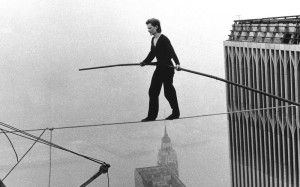 Philippe Petit, a petite Frenchman, had planned this illegal 45 minute stunt for six years, including taking aerial photos of the towers being built, studying the swaying of the towers, and designing a 200kg cable and a 25kg balancing pole that he would need to traverse the 61m gap. When asked why he risked his life he replied, "When I see three oranges, I juggle. When I see two towers I walk." Fair enough.
Amazingly all charges were dropped and he was even asked to autograph the roof beam from which he had stepped onto the cable.
The only balancing act that I can think of that deserves more attention is the tightrope Christians need to navigate in their daily walk to Christlikeness: the balance of our responsibility and God's sovereignty in sanctification.