Therefore from now on we recognize no one according to the flesh; even though we have known Christ according to the flesh, yet now we know Him in this way no longer.
Therefore if anyone is in Christ, he is a new creature; the old things passed away; behold, new things have come.
– 2 Corinthians 5:16–17 –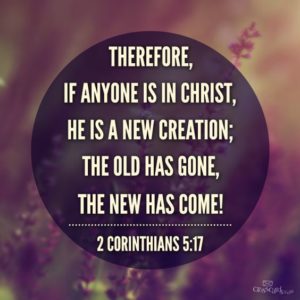 Paul speaks about regeneration in this passage. If anyone is in Christ—if anyone has become united to Jesus Christ by saving faith in the Gospel, if anyone has died to sin and self in union with the One who died to sin once for all—he is a new creation. Working backwards, from cause to effect, the second half of verse 16 notes that the very first result of regeneration is a new view of Christ. As unbelievers, we all once regarded Christ from a fleshly point of view, according to worldly standards, paying special attention to the way things looked outwardly and externally rather than internally and spiritually. But the regenerate regard Him in this way no longer. When Almighty God issues His sovereign decree for light to shine forth in the heart that is dead in sin, when the eyes are opened and the ears unstopped, when the heart of stone becomes a heart of flesh, the first thing that changes is the sinner's view of Christ. We see Him for who He is, in all His beauty, glory, and suitableness to our need.
Working backwards even further to the first half of verse 16, Paul speaks of a second result of regeneration. Not only does the regenerate sinner have a new view of Christ, but he also has a new view of everyone else. When we're transformed from the inside out in regeneration, and our assessment of Jesus changes, so does our assessment of everyone else in the world.