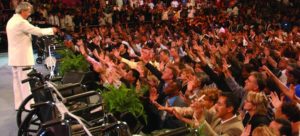 "But I'm telling you, I saw it! I was there and it really happened."
Often miracle claims are brought before us. Fairly regularly, I hear of things like local, impromptu, evangelistic, healing events during which individuals were approached at random, prayed over, and healed of some various physical ailment. The claim might be followed by an individual testifying sincerely that it happened or a video documenting the healing miracle as undeniable proof that the pain departed, the crutches dropped, or the oppression lifted. Excitement erupts. God is at work. The Spirit is moving. It's a God thing. How could it not be?
But is it? How should we respond to these things? After all, well-meaning and sincere professing Christians saw it and documented it, so how could it be denied? Why wouldn't the Holy Spirit want to do that? And doesn't that mean that the Spirit wants to use us in such ways?