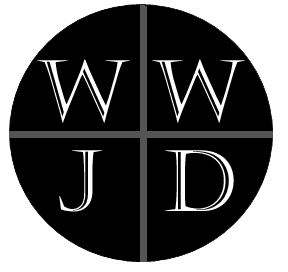 Reaching the peak of its popularity in the mid-1990s, the phrase "What Would Jesus Do?" used to be the de facto slogan of mainstream American evangelicalism. (Remember the bracelets and wristbands?) And although its prevalence has declined in recent years, a quick internet search reveals that WWJD remains a popular motto.
You can still find the famous acronym emblazoned on a wide array of available paraphernalia: from the expected forms of share-wear (like bracelets, t-shirts, and buttons) to more-surprising curiosities (like baby onesies and pacifiers). There are WWJD books, booklets, bumper stickers, mugs, key chains, and cell phone cases. There are even several films: the 2010 original, and two sequels.
Yet, despite the continuing popularity of this evangelical catchphrase, I doubt the majority of American Christians have ever seriously evaluated whether or not the question, "What Would Jesus Do?" is a biblically-valid mechanism for everyday decision-making.
Upon closer examination, I would suggest that WWJD—at least in terms of its popular application today—is often less than helpful, and sometimes downright dangerous. Continue Reading…