As I saw her sitting there on her wheelchair sobbing…both our hearts were breaking.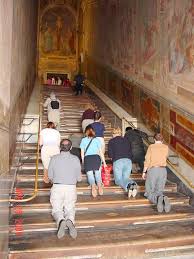 Hers because she was unable to walk up the Holy Steps to have her sins forgiven. She so desperately wanted to be able to spend less time in purgatory and she couldn't bear the thought of being so close to the steps where Jesus had walked and unable to go up them like everybody else.
Mine because she had been duped into believing that this ritual of walking up the steps, and saying a few hundred hail Mary's, would save her from her sin. Her tears were yet another example of the evil that is the Roman Catholic Church.
Of course, a sign not too far from her stated that those who could not crawl up the steps could stay right where they were and still receive pardon for their sin, but she wasn't buying it.  She knew that she was missing out on something, and it was all because of her inability to perform works.
As I gazed around the room, I was overwhelmed by the dozens of people who were partaking in this practice of walking up these "holy steps". According to Roman Catholic tradition, these were the steps that Jesus walked on in order to go up to Pilate. They even have spots on them which they claim is where Jesus' blood dropped. Supposedly, Helena the mother of Constantine had them brought from Jerusalem to Rome in the fourth century.