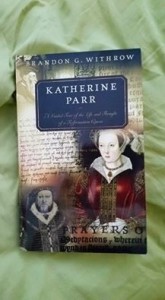 My wife and I have enjoyed watching a new series on PBS Masterpiece called "Wolf Hall". In this intriguing show history is retold through the eyes of Thomas Cromwell, "the enigmatic advisor to King Henry VIII, as he maneuvers the corridors of power in the Tudor court. This six-part series follows the back-room dealings of this accomplished power broker, from humble beginnings, who must survive deadly political intrigue."
One of the things that I like to do while watching a show like this is to utilize my smartphone to 'fact check' the details. For example, did Queen Anne Boleyn truly commit incest or was it a false charge trumped up against her because she failed to produce a male offspring? What were the actual circumstances surrounding her death?  As a Christian, I especially want to know what role genuine believers played during the English Reformation?
For those of you interested in learning more about the heroes of the faith in this era I recommend the following books: Katherine Parr: A Guided Tour of the Life and Thought of a Reformation Queen (one of the many wives of Henry) by Brandon Withrow. I also would commend chapter four in Christopher Catherwood's, Five Leading Reformers: Lives at a Watershed in History.  Finally, I would encourage you to consider reading J. C. Ryle's classic book, Five English Reformers.
Here is a snippet of some of the helpful details Catherwood provides in his short, but helpful book, on Five Leading Reformers. "The Reformation, when it finally came to England, came not with a Wycliffe or a Tyndale, but through the gentle scholar of quiet determination, Thomas Cranmer."
"What then is the key factor in determining the English Reformation? The answer is surely the top down nature of the English Reformation, a change made initially not on spiritual grounds but on political ones. This is how Thomas Cranmer (1489-1556) could be promoted by one King (Henry), lauded by the King's son (Edward) and martyred by the same King's elder daughter (Mary)." "We need now to come on to the events which propelled Cranmer to fame- the issues at the heart of the English Reformation." Continue Reading…