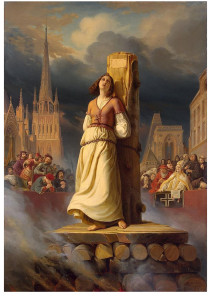 How Many Protestants Were Killed in the Inquisition?
A friend asked me that question earlier this week. And so I thought it might be helpful to share a few thoughts, from a historical perspective.
Opinions about how to answer the question vary widely. Some suggest that just a few thousand people were executed during the Inquisition, while others project that there were tens of millions of victims. So how can the estimates be so widely divergent?
There seem to be several explanations:
1. First, the imprecise nature of the historical records means that contemporary historians are forced to extrapolate on the basis of the limited information they possess.
One of the first accounts of the Inquisition came from a former Spanish secretary to the Inquisition named Juan Antonio Llorente (1756–1823). According to Llorente, the total number of "heretics" burned at the stake during the Spanish Inquisition totaled nearly 32,000. Llorente adds that another 300,000 were put on trial and forced to do penance (cf. Cecil Roth, The Spanish Inquisition [W. W. Norton, 1964; reprint, 1996], 123). Continue Reading…