On January 22, 2006, Kobe Bryant did the unthinkable.  He scored 81 points in a single NBA Basketball Game. One of the greatest players to play the game, accomplished one of the greatest feats in the history of basketball.
And I was there.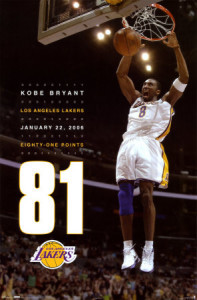 You should have seen me. I couldn't get out of the arena fast enough to call anyone I knew with a cell-phone.  I called my high school basketball coach.  I called my teammates.  I told random people on the street.  For a few months I would figure out ways to bring it up in conversations. And then slowly as time went on, I didn't talk about it as much. I still figure out ways to stick it into sermons or blog posts, but over time my excitement of that moment has become less than it once was.
I feel like the same thing happens with evangelism. As time passes after our big day, we lose our passion and boldness. Suddenly, something that came so easy for us only a few years ago dissipates.
I believe that Scripture is filled with daily practices that the Lord has given to us, that, if we see the connection to evangelism, will lead us to a greater motivation to share.
Here are three habits that will kindle the fire for your personal evangelism: