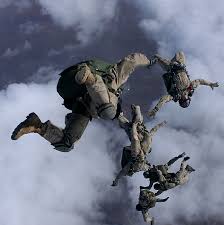 Navy SEALs and other elite military units are experts in a death-defying insertion maneuver known as HALO, or High Altitude Low Opening parachute deployment. From oxygen starved altitudes of 30,000 ft, where the temperature is -45C/ -50F, out of the range of surface to air missiles, the troops free fall at terminal velocity, and deploy their chutes just in time to land on earth alive.
The effect on an unsuspecting enemy is undeniable. One moment you are casually plotting the demise of democracy (or whatever villains do nowadays) and the next moment you are inundated with a disorientating shock-and-awe rapid-fire invasion.
It's not only SEAL teams who are trained for this style of descent. We learned to do this in seminary.
Well, that's how it felt to me. Our Apologetics and Evangelism professor had us do every kind of evangelistic technique known to man. I suppose the purpose was to equip us for whatever our future ministries needed, but to me the HALO-style campus evangelism was the hardest to do.
I could preach to a hostile crowd, or craft a written apologetic argument, or even approach an unbelieving friend with a face to face gospel discussion. But what terrified me was being dropped off at the local secular college campus armed with a Bible, a fistful of cheesy tracts, and a brown paper bag for my hyperventilation.
I was expected to accost total strangers with a gospel presentation they had neither invited nor expected. I can't tell who was more uncomfortable, me or the single guy eating his lunch in peace until he made eye contact with me, which activated my jelly-legs to carry me over to sit next to him.
It was a rewarding exercise, which made me really admire Christians who are gifted at that kind of cold turkey evangelism. Countless souls have been won to Christ through such bold efforts. But there are also other ways to evangelize.
The Apostle Paul—not known to need much prodding toward evangelizing!—wrote to the Colossians, with a surprising prayer request…