Shakespeare was a sonnet maestro. A sonnet, from the Italian word meaning little sound, is a structured form of poetic expression. An English sonnet has 14 lines, each one must contain 10 syllables and there are certain rules for rhyming. The point of the sonnet is to show the poet's prowess commanding the language to conform to strict limits, while still expressing what he wants to communicate in an artistic way.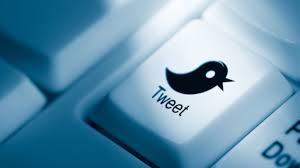 The Bard used sonnets, we use tweets. Twitter limits our expression to 140 characters. This is somewhat easier than what Shakespeare had to do, but for many loquacious youths these days, any type of limit is a challenge.
Founder, Jack Dorsey, explains,
[W]e came across the word 'twitter', and it was just perfect. The definition was 'a short burst of inconsequential information,' and 'chirps from birds'. And that's exactly what the product was."
The brevity of the tweet is what makes it simultaneously both appealing, and potentially useless. But Jonathan Zittrain, professor of Internet law at Harvard says,
The qualities that make Twitter seem inane and half-baked are what makes it so powerful."
But just because a message is short, does not mean it is insignificant.
Horatio Spafford saw his life collapse when he heard his four daughters had drowned in a shipwreck. This news came from his wife's poignant telegram: "Saved Alone."
World War 2 ended with the words "Unconditional Surrender."
My wife made my day, and my life, with two words: "I do."
In Jonah 3 we see five (Hebrew) words that changed history for over 600,000 people, with implications that echo in our very lives today.