I'm sure you've encountered the quirky literary technique sometimes employed to drive plots in some novels and serials known as the doppelgänger. A doppelgänger is the look alike of another character. In popular fiction the doppelgänger is usually a foil for the protagonist, often as an evil twin or as a deliberate double. Examples are Twelfth Night, Tale of Two Cities, The Man in the Iron Mask, Dave, and Superman III.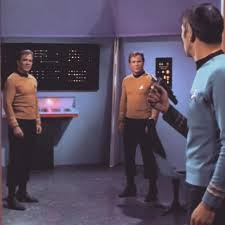 At the climax of the story, a third character is often called upon to authenticate one of the two. This resolves tension in the denouement. A classic technique is to quiz both with personal questions that would stump the evil twin. Other traps include luring the doppelgänger into eating food the real character is allergic to, or challenging the doppelgänger to a task only the good guy can do.
But my favorite unveiling is in Star Trek: The Original Series in the 1969 episode "Whom Gods Destroy." Spock encounters Captain Kirk being imitated by a shapeshifter. They get into a fight and the one Kirk orders Spock to shoot them both to prevent the imposter from escaping. Knowing that only the real Kirk would sacrifice himself for the safety of the Enterprise, Spock stuns the other one.
Psalm 1 supplies us with a tried and tested technique to discern between the righteous and the unrighteous.