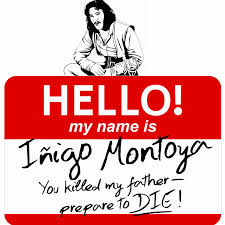 We all need to take to heart the well-rehearsed injunction of the iconic swordsman, Iñigo Montoya, to the six-fingered man: "Prepare to die!" One way to apply this sage advice is to craft a nifty epitaph for your tombstone. This prevents eccentric relatives with a penchant for rhyming from composing one of these actual examples:
Shakespeare: 'Blessed be he who leaves these stones and cursed be he who moves my bones.' It is a travesty that the late Bard lies under any prose other than iambic pentameter.
In Silver City cemetery, Nevada: 'Here lies Butch. We planted him raw. He was quick on the trigger but slow on the draw.'
1880 Nantucket Massachusetts. 'Under the sod and under the trees lies the body of Jonathan Pease. He is not here, there's only the pod, Pease shelled out and went to God.'
Boothill Cemetery Tombstone Arizona, 'Here lies Les Moore, 4 slugs from a 44. No less, no more.'
Another way to prepare to die is to ponder the wisdom of Psalm 49.
THE UNIVERSAL NEED TO PREPARE TO DIE
According to the CIA World Factbook 28 of the 29 countries with life expectancies of 60 or less are in Sub-Saharan Africa, where I live. Yikes. There are 40 countries boasting octogenarians as their average (Monaco tops the list at 90!). Life expectancy in the USA is 80 (or by reason of pills and procedures 85). But, sadly, there is no nation on earth known for its immortality. The death rate worldwide still holds steady at 100% (Elijah and Enoch notwithstanding).