Have you ever been disappointed with how small your ministry is?
Perhaps you're a mom with little children or a small town pastor with a few dozen people, and every once in a while you get an overwhelming sensation of disappointment with how small your ministry is.
This feeling is only multiplied when you are a missionary overseas.  Recently, a team from my church was able to go on a mission trip to Rome, Italy.  With millions of people living in Rome, only 0.01% are evangelical.  This means that Rome is one of the most unreached cities in the world.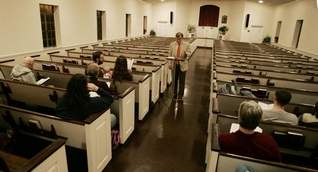 Our team of nine people made up about 40% of the Sunday morning church attendance on the Sunday that we were in Rome.  The church of about 20 was missing a family of four, and any time that happens they lose 20% of their congregation.  Nonetheless, it was an incredible service.  People sang with all their hearts, they enjoyed their fellowship together, and—most of all—they loved hearing God's word.  Perhaps I'm biased since the preacher was my father, but they got to hear an incredible sermon.  They sat under an expositional feast.  The sermon was about Christ's humiliation out of Philippians 2.  They were fed and fed well.  The most interesting response came from our team.  We were all a little annoyed that only 14 or 15 Italians heard the message.  Thousands upon thousands were living within a square mile of the location where this was happening, but only 15 got to hear this great exposition.  The preacher had spent hours studying the Greek of this passage, hours working on crafting a message and applying a message for these people, and we couldn't help but wonder was it a waste?
Have you ever felt that way?
This type of thinking is not only wrong and sinful, but it is dangerous, and we really need to check our hearts and learn to be satisfied with the "talents" that God has given us.  Here are a few reasons why we should find satisfaction in whatever ministry God has given to us.