Here are some practical tips I found on the net on how to be happy:
Get regular exercise, be healthy. Go for a brisk walk, get health issues you are in control of sorted out and stay hydrated by drinking copious amounts of filtered water.
Socialize with happy people. Studies have shown that spending time with good friends who have a positive outlook on life dramatically increases subjective reports of wellbeing and happiness.
Learn a new skill. When people focus on learning a new language, craft, or sport they exhibit higher levels of happiness.
Engage frequently in simple activities that bring you pleasure. The concept of "flow" is that sense of satisfaction and fulfillment and happiness one experiences when doing something enjoyable and doing it well. One simple example is eating a favorite food as a treat— in moderation of course.
And here are some tips I found for caring for my dog's wellbeing: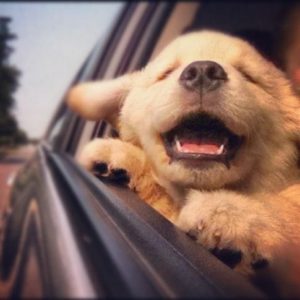 Regularly take your dog for a brisk walk for exercise, give him lots of fresh water, and get health issues sorted out quickly.
Socialize your dog by making an effort to get him out to parks where there are other dogs.
Train your dog and teach him skills.
Let your dog engage in activities that bring him pleasure like hanging his head out the window, and give your dog an enjoyable treat to eat—in moderation.
Of mutts and men
I'm not sure what insight is to be found in how similar and environmentally sensitive canine and human happiness is. But there is another aspect in which dogs and humans correlate. One site on K-9 police dogs said that the animal's wellbeing is inextricable from his relationship with his handler.
If he has a kind master who provides for physical needs, expresses love and affection through touch and tone of voice, and spends time with the dog, he will be almost oblivious to any other circumstance besides what the master requires of the dog. And this total obedience is born out of the canine's trust in his handler.
I wish the psychology websites included this in their advice on how humans can be happy.
Thankfully, Christians already know that joy stems from being in a right relationship with a loving, generous, and trustworthy Master through obedience.
One compact and clear verse that teaches this is Philippians 4:4 Rejoice in the Lord always; again I will say, rejoice.