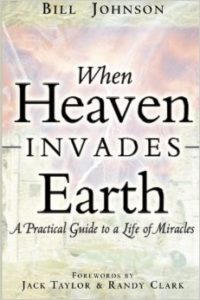 For as long as anyone knows, humanity has had a fascination with the supernatural. It's an allure that transcends culture and time. So it has been in many contemporary Christian movements.
It was in 1987, after a John Wimber conference on miracles, that Bill Johnson claims to have experienced his ministry breakthrough. Then in 1996, after an experience at the Toronto Revivals, he began serving at Bethel Church in Redding, California, the original home of the Jesus Culture movement and Bethel School of Supernatural Ministry. Johnson, who is considered to have the "apostolic gift," teaches many doctrines which fall in line with the NOLR (New Order of the Latter Rain Movement) and the NAR (New Apostolic Reformation). A proponent of the Toronto Blessing, Johnson supports individuals such as John G. Lake, Rodney Howard-Browne, and Smith Wigglesworth (the notorious, early 20th century faith-healer known for punching and slapping people with sicknesses as a means of miraculously healing them).
In 2003, Johnson published one of his more popular works, When Heaven Invades Earth: A Practical Guide to a Life of Miracles (WHIE). Since its publication, tenth anniversary and teen editions have also been released. WHIE, which is claimed to be "a death-blow to cessationism" (21), has received endorsements by individuals such as Randy Clark, Heidi Baker, John Arnott, Ché Ahn, and Todd Bentley.
WHIE features many stories of people attempting to reach out to the lost (e.g. 25-26, 172-173). For that, the book is commendable. As Christians, it's far too easy to shy away from bringing the love of Christ in word and deed to those in need.
Despite the popularity, however, when compared to Scripture, WHIE's problems are enormous. The book will be examined in several theological categories to demonstrate this.