Relevant Magazine recently ran a post called "What the Bible says about how to treat refugees." To help you understand where they are coming from, remember that Relevant seems to exist primarily to tie Christian ethics to whatever cause célèbre has captured the kids these days. The list was frustrating to read not because of what it said, but what it omitted (to spare you the click, the gist is that Christians should open their borders to refugees).
But the actual refugee problem runs deeper than that, and it is yet further evidence of the juvenilization of evangelical thought that actual theologians think the issue of Syrian refugees should be settled by pointing to Levitical law about letting foreigners reap in your grain field.
At risk of sounding pedantic, this is a complex issue with competing interests and ethics. Namely:  
Christian ethics in government?
First, should governments exercise Christian ethics? If in the context of a debate about a bill in Congress regulating refugees from Syria, a person is going to argue that Levitical Law should guide us, does that mean that Congress should be influenced by the Bible's ethics?
I say yes, Congress should be guided by biblical ethics. But I couldn't help but notice that people making the "Leviticus says you should receive refugees" argument were—only a few weeks ago—saying that government workers were not supposed to follow their religion whilst on the clock. Remember Kim Davis?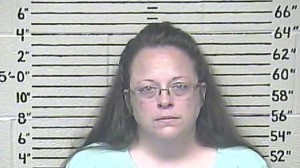 But I'll take a victory where I can, and so for the sake of this argument let's agree that the government should operate based on biblical principles.
Levitical Law for the USA?
Levitical Law concerning refugees was grounded in the basic fact that God cared for Israel while she was enslaved in Egypt and while she was wandering in the wilderness, so they should care for others who were enslaved and are now refugees. In this video, Master's Seminary's Michael Grisanti argues that Deuteronomy 10:18-20 is a key passage explaining this dynamic:
"[Yahweh] executes justice for the orphan and the widow, and shows His love for the alien by giving him food and clothing.  So show your love for the alien, for you were aliens in the land of Egypt. You shall fear Yahweh your God; you shall serve Him and cling to Him, and you shall swear by His name."
It is clear that Mosaic Law commanded the Israelites to care for sojourners and exiles. But this is contingent on a few presuppositions, not the least of which is that Israel itself had purged the idols from within her own boarders. Deuteronomy 10 is surrounded by passages about idolatry (9 is the rebuke for the golden calf, and 11 is the appeal for the Israelites to break from idol worship).
In other words, Israel was supposed to be a beacon of truth in the middle of a world of lies. And when people wanted truth, they would flee to Israel. When people were hopeless (as in the case of Ruth) or hopeful (as in the case of the Queen of Sheeba), then Israel would be the place they could come and find Yahweh.
To the extent to which I agree with the Relevant take on refugees, it is right here: God cared for Israel when they were persecuted, so those that worship the God of Israel should care for others who are persecuted.
Does this apply to the USA? Well, inasmuch as you grant that we too were founded with God's favor as a nation of religious freedom, then the principle does apply. God has showed kindness to our country, and our country has often been a place of refuge for those fleeing religious persecution. In fact, this is a hallmark of our history: we revere religious freedom, and welcome others who do as well.
Government's responsibility to protect:
This is the issue too often overlooked by arm-chair politicians wielding only Deuteronomy 10. Those in government have an additional responsibility beyond simply welcoming refugees like Israel was supposed to. They are called by God to protect their citizens from harm (Gen 9:6; Acts 14:6; Rom 13:4-5; 1 Peter 2:13-14). So if you buy that government legislatures should follow biblical ethics, then you have to ask: What ethics apply to this situation?
What is this situation? A nation torn by war and genocide largely fueled by their tyrannical leadership and hatred of Christ has essentially collapsed. They are being bombed by the Russians, gassed by their own government, and the Christians there are being persecuted by the fleeing Muslims. Many of them are attempting to illegally flee across land into Europe, or attempting dangerous crossings of the Mediterranean.
But the same terrorists that are devastating Syria (and Iraq) are following the refugees to Europe. It is a horrible situation: as more people die tragic deaths crossing into Europe, the more political pressure is put on Europe to open their borders and allow hundreds of thousands of these refugees. The more open Europe becomes, the easier it is for terrorists to get in as well.
The result is a complex moral situation. A Christian leader in Europe (or in the United States) has to legitimately ask himself what the equilibrium is. How do you balance the desire to rescue refugees with the desire to keep terrorists out of your own country?
This is not simply a political issue either. In the United States there are several Democrats that are in favor of pausing the Syrian refugee program, and there are several Republicans in favor of expanding it. Just as it is complex theologically, it is also complex politically.
Remember that the Boston Marathon bombing was perpetrated by brothers in the Untied States as refugees (*). The Paris attacks were similarly planned by people who came into Europe posing as refugees.
Now, as you remember that, pretend you are a political leader in the US—someone who actually has the authority to increase the flow of Syrian refugees into the country, or who has the authority to stop the flow altogether. As you wrestle through the issue, you are aware that your job according to the Bible is to protect your people. Your job as a believer in Christ is to demonstrate biblical ethics, which also includes showing kindness to refugees. Both are God-given principles that you must balance.
As you imagine the dilemma that person is faced with, do you now understand how superficial it makes Christianity look if Christian leaders are saying the issue is as simple as Levitical law about refugees?
The truth is that in a fallen world this is difficult. Obviously compassion is worth some risk, and obviously compassion is not worth every risk.  You are to love your neighbor, and for those in government their neighbors are the citizens they protect as well as the refugees that flee, and these are often in tension.
The Christian response should be to pray for wisdom in our leaders, to pray for safety for our nation, and to seize any opportunity we have to show love and mercy to those who have lost their home nation.
* [The Washington Post has since corrected their story on the Boston Bombing; however, I did watch the hearing before the Senate on this issue, and the head of the Office of Refugees said that in order to be granted asylum, a person has to meet the qualifications of a refugee. She said she was not aware of any differences, and she is literally the most qualified person in the country to speak to this issue.]