Therefore, my beloved brethren whom I long to see, my joy and crown, in this way stand firm in the Lord, my beloved.
– Philippians 4:1 –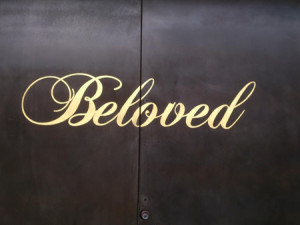 As glorious as it is to be brothers and sisters in Christ, that metaphor alone does not exhaust the description of believers' relationship to one another. It goes even deeper than that. It's true that the familial bond wrapped up in the term "brethren" is objective; you don't have a choice who your brothers and sisters are. And sometimes you don't always like them, do you? And almost as if the Apostle Paul is thinking that very thing, he adds a second term of endearment to describe his relationship with his fellow-believers in Philippi. They are beloved.
Look again at verse 1. Literally, "Therefore, my brethren, whom I love and long for…." And then after he gives them the exhortation to "stand firm in the Lord," again, at the end of the verse, Paul repeats this designation and calls them "my beloved" again. The relationship he has with the Philippians is not one of feuding brothers and sisters; there's no thought of, "Well, you're my brother and so I guess I'm stuck with you." No. He brackets the verse by expressing his deep and heartfelt love for them.
This word that the NAS translates "beloved" is the adjective form of the Greek word agape, which scholars describe as "the richest, deepest, and strongest Greek word for love." William Hendriksen writes that this love is "deep-seated, self-sacrificing, thorough, intelligent, and purposeful—a love in which the entire personality takes part."
The Love of Affection
And there are two components to this biblical love that exists between fellow believers in Jesus. The first component is affection, or you might also say delight. This love looks upon its object and, seeing its loveliness and worthiness, finds great pleasure in it.
Surely this was true of Paul as he treasured his friendship with the Philippians. We learn from this epistle that their hearts had been uniquely knit together in the partnership of Gospel ministry. He speaks of the Philippians' "participation in the gospel from the first day until now" (Phil 1:5), and says, "It is only right for me to feel this way about you all, because I have you in my heart, since both in my imprisonment and in the defense and confirmation of the gospel, you all are partakers of grace with me" (Phil 1:7). And then again in chapter 4, he draws attention to the fact that after he left Macedonia, "no church shared with [him] in the matter of giving and receiving but [the Philippians'] alone" (Phil 4:15).
And so Paul can look upon the Philippians, and take pleasure in them with the love of affection, because of their progress in grace. They are not lovely or worthy in and of themselves, but as they become increasingly conformed into the image of the Lord Jesus Christ, Paul sees Christ in them—and He is the sum and substance of all beauty and delightfulness and loveliness.
The Love of Action
But this love does not stay merely at the level of affection. When the heart is so full of delight in the beloved, that affection expresses itself in action. It is the kind of love that produces a sacrificial commitment to one another, that suffers great cost to oneself, if necessary, in order to benefit the beloved.
And this was true of Paul as well, in ways that we see even in just this epistle. Paul speaks of sending his deeply cherished brothers, Timothy and Epaphroditus, back to the Philippians for their own sake (Phil 2:19–30). Remember how he spoke of Timothy: He was Paul's kindred spirit in a way that was entirely unique; he had demonstrated his proven worth; he had served alongside Paul in Gospel ministry, and had done so just as if he were Paul's own son (Phil 2:19–24). Surely Paul would have wanted his spiritual son by his side as he faced his imprisonment and his impending trial before Nero. But because he would be a benefit to the Philippians, Paul was willing to send him to them.
And the same with Epaphroditus—the one who Paul calls his brother, his fellow-worker, and fellow soldier (Phil 2:25). He explains to the Philippians that Epaphroditus had almost died from his journey, and says, "In sparing him, the Lord also had mercy on me, because if he died I would have had sorrow upon sorrow" (Phil 2:27). And yet as much as he loved Epaphroditus and could have benefited from his personal ministry while in prison, he gladly sent him back to the Philippians, because he knew that seeing him would cause them to rejoice. And that is to say nothing of Paul's own suffering for Christ on their behalf, which he describes as "being poured out like a drink offering upon the sacrifice and service of your faith" (Phil 2:17). The fortune-telling slave-girl would have remembered the beating that Paul received at the hands of the magistrates (Acts 16:23). The jailer would have remembered the bruises on his wrists and ankles from being fastened in the stocks (Acts 16:24). And any one of them could have observed in his body the brand-marks of Christ (Gal 6:17).
Do you know this love?
Dear reader, do you have any experiential knowledge of this kind of love for your brothers and sisters in Christ? Can you look upon the fellow-believers in your church—and the true believers in any church—and in integrity call them, "My beloved brethren"?  Is there a delight, a bubbling up of true affection, as you identify evidences of grace in their life, and behold with the eyes of your heart the glory of Christ revealed in your brothers and sisters, as they becoming increasingly conformed into His image?
And does that love of affection and delight well up and overflow into action—into real, concrete deeds of service and self-sacrifice? Are you sacrificially committing yourselves to one another—pouring yourselves out as a drink offering, upon the sacrifice and service of the faith of your dear brothers and sisters? Are you being inconvenienced by meeting the needs of the saints, but counting the loss of that convenience as gain for the sake of the surpassing value of the communion with Christ (cf. Phil 3:8) that comes as a result of serving His people the way He did?
And perhaps the most important question: If you're not, what kinds of provisions are you making to see that that changes in 2016? What adjustments in your life need to be made? What priorities need to be re-evaluated? What idols need to be sacrificed? Whatever has to be done, it will be worth doing in order to truly call your brethren beloved.