Parenting provides an ever ready laboratory for experimenting with theology's application to real life.
Doctrine is designed to seep deeply into the substance of life. If truth isn't changing your workaday decisions about everything from toothpaste (why do you want whiter teeth?) to diet (for whom are you losing weight?) to what you order on Netflix (do you need a rating to tell you nakedness isn't entertainment?), then you are in danger of being a subtle type of hypocrite.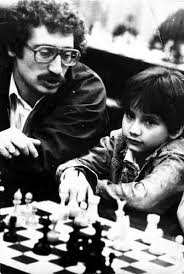 Jesus rebuked the Pharisees for their attention to gnat-sized detail when it came to the law of Moses, while simultaneously ingesting camel-sized indulgence when it came to caring for the people the law was meant to protect and the God the law was meant to honor. Likewise, some Christians can dot the "I" in TULIP with great dexterity, but they struggle to apply the doctrine of irresistible grace to say, their attitude toward their recalcitrant teenager.
Recently I encountered a parenting conundrum that required the oil of doctrine to help turn the cogs of everyday life.
Think through this with me. A caring, Christian dad comes to you with this question: which sport should my seven year old boy play? Our family only has time and money to permit one sport for each of our children. This particular son is extraordinarily gifted at chess. (for the sake of the illustration let's concede that chess is a sport). Let's call the boy Josh (homage to chess prodigy Josh Waitzkin, whose father faced a similar dilemma, which he wrote about in his memoire, Searching for Bobby Fischer).
Our little Josh could possibly become one of the great chess masters of his generation, or at least his school league, if he devoted himself to the pursuit of excellence. He'd need to read a lot of books, have private coaching, and travel all over the country to gain exposure to tournament level competition in his age group. There's only one problem: he doesn't want to.
Josh wants to play a team sport at school, like soccer. Oh, there's another problem: Josh is not that gifted at soccer. His school coach, who is content to have him play the occasional B team game, has made it clear that Josh will not be the next Lionel Messi, though "messy" is an apt adjective for his playing style.
Josh loves watching soccer, knows all the soccer players' stats, and looks forward all week to his matches, even if simply cheering his teammates from the bench. If he had private coaching and spent hours of extra practice, he might make the A team someday. But he's ebullient when playing on any team, as long as he's with his friends, and outside in the sun.
How would you counsel Josh's dad?
Here are some doctrinal principles to apply to the situation: