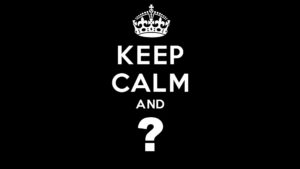 In 1988 Bobby McFerrin dropped his enormously popular hit that would become the first a capella song to summit the Billboard Top 100 chart to reach the #1 spot.
"Don't Worry, Be Happy" resonated with a generation of those who identify as overstressed, overworked, underpaid, and underappreciated.
The lyrics, sung in an affected accent amid the bobbing and weaving of McFerrin's own vocal gymnastics, became an anthem for the economically oppressed urbanites and a mantra for the angst-ridden collegiate coeds. Many know more stanzas of this song than of the national anthem.
In every life we have some trouble
But when you worry, you make it double
…

Ain't got no place to lay your head
Somebody came and took your bed
Don't worry, be happy
The landlord say your rent is late
He may have to litigate
Don't worry, (ha-ha ha-ha ha-ha) be happy (look at me, I'm happy)

Ooo-oo-hoo-hoo-oo hoo-hoo-oo-oo-oo-oo-ooo Don't worry
Woo-oo-woo-oo-woo-oo-ooo Be happy […etc. …]
The problem with this cheerful chant is that it is misleading; it posits that the opposite of worry is happiness. Let's delve into a verse of Scripture that brings rich theological protein to this otherwise unsubstantial cotton-candy advice.
Philippians 4:5-6 Let your reasonableness be known to everyone. The Lord is at hand; do not be anxious about anything,