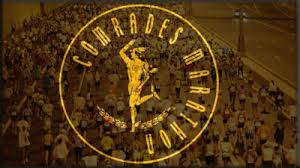 Yesterday marked the 91st Comrades Marathon Race in South Africa. Since the first race in 1921 the Comrades Marathon has become one of the most famous and prestigious of all ultra-marathons. Winning the race is a coveted achievement. But there are many ways to win the Comrades Marathon.
As I discuss in The Preacher's Payday, you can win it simply by finishing first, like Bill Rowan did in 1921 by coming in a mere minute under nine hours. You can win it five hours and 18 minutes, like David Gatebe did yesterday, setting the new record. You can win it more times than anyone else, like Bruce Fordyce did: nine times. You can even win by running against people who are not running. Yes, you can win a Wally Hayward medal if you finish in under six hours or a Bill Rowan medal if you beat his time of nine hours.
But you can also win the race by beating the real competition: pain. It is the pain and fatigue that most runners are trying to conquer, not the person in front of them. It is a challenge of body and mind, and runners are racing against themselves. And so the awards reflect this. Most races award a gold medal for 1st, silver and bronze for 2nd and 3rd, and everyone else gets a pat on the back.
But the Comrades organizers realize there is more to this race than coming first. Everyone who finishes within the twelve hour limit gets a medal. Even those who come in during the last hour, get the Vic Clapham copper medal. And as agonizing as the challenge, that medal will outlast the memory of your pain and fatigue. It is that image that the New Testament writers use to picture our awards ceremony.