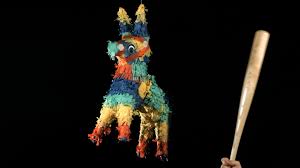 I was 23 when I first saw one. It was a hollow, colorful, papier-mâché creature stuffed with candy, chocolates, and assorted sugary delights. They strung it up and told me to hit it. They called it a piñata.
As entertaining as this experience was for me, I suspect the real entertainment for the college students in my Bible study was witnessing a grown man attempt to rupture his first piñata. But the joke would soon be on them.
I flailed aimlessly with all the force I could muster, missing the elusive treasure trove and inadvertently losing my grip on the stick. It shot like a spear at the crowd of gawkers, and smashed into the cheekbone of a girl who was caught off-guard by the missile.
It was also the last time I ever attempted to hit a piñata. In fact, it was the last time I would wield a weapon while blindfolded.
However, if Paul had to comment on some of my early prayers, he might draw a comparison. Many Christians pray like God is a piñata, which they blindly poke with aimless prayers. Let's allow Paul to take off our blindfolds for us with this model prayer…