The Mont-Joux pass is the erstwhile name of a particularly treacherous mountain pass in the Alps straddling Switzerland and Italy. For centuries thousands of lost sojourners perished trying to cross it in the biting winter. When a snowstorm unpredictably arose, there would be a whiteout, and with no way to stay on course travelers would get disoriented, distressed, irrevocably lost, and slowly freeze to death.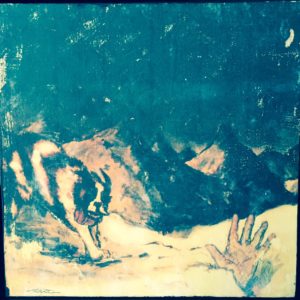 But, suddenly, in the 1700s the death rate declined drastically. The reason was not due to any serendipitous technological advances. The climate hadn't changed. The reason for the increased survival rate was a dog; or to be more accurate, a breed of dogs. This uncanny canine breed possessed a prodigious aptitude for navigation in the blinding fog, a preternatural stamina in below freezing temperatures, and an almost mystical ability to locate lost people in a blizzard.
By this stage in history the pass had been named for the monastery founded by St Bernard of Mont-Joux, so naturally the dogs were also canonized, as St Bernards.
During the 200 or so years that the faithful saints served on the St Bernard Pass, over 2,000 lost souls were rescued from the frost-bitten clutches of an icy death. When the "saints" found a lost soul, they would rescue the iced travelers with a simple but effective, methodical process: first, they located them in the snow with their super-sniffer abilities, then they would deliver a life-saving supply of whiskey and bread in quaint oaken barrels strapped around their necks, and finally they would lead the revived popsicle back to the monastery at a blood-stirring pace by borrowing a pathway with their broad chests at a determined gait.
The rescue dog breed is an apt metaphor for the intrepid sub-species of Christian, the full time missionary. This is a breed of believer that exhibits extraordinary stamina and perseverance, and the exceptional abilities to sniff out local spiritual and physical needs, and lead disciples by example, into the soul-saving truth. Missionaries  also admit that they are impotent to help the lost soul, except for delivering the life-giving elixir they carry with them, namely the gospel message.