This is a talk I presented to the Sunday School teachers in our church who teach children up to grade 7. I thought I would share it with you who teach children in your church for warning and encouragement.
THE STIMULUS FOR TEACHING CHILDREN
While we believe that teaching children the gospel is primarily the function of parents, as Sunday School teachers you come alongside parents to support them in this role. In the Sunday School classroom children are taught the truths of the gospel in language that works for them over and over again until it sticks.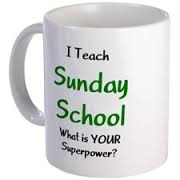 Consider what you do as teachers in the light of Colossians 1:28 Him we proclaim, warning everyone and teaching everyone with all wisdom, that we may present everyone mature in Christ.
In Sunday School you are proclaiming Christ to children, you are warning them of the reality of judgment and hell, and teaching them with wisdom – as is appropriate to their age. This is done with the goal of presenting everyone you teach as mature in Christ.
So you are part of the process that sees those children not only serving in the body of Christ on earth but one day standing in glory before Jesus.
Allow that thought to influence the way in which you teach.
THE SERIOUSNESS OF TEACHING CHILDREN
James 3:1 Not many of you should become teachers, my brothers, for you know that we who teach will be judged with greater strictness.
Since we who teach will face a more serious judgment, we ought to contemplate this sobering warning every time we prepare and teach.