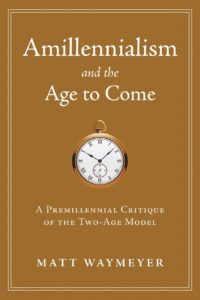 Today I want to make our readers aware of a new book that is sure to serve the church well. It's written by our friend, Dr. Matt Waymeyer, who serves on the pastoral staff of Grace Immanuel Bible Church and the faculty of The Expositors Seminary in Jupiter, Florida, and who has made excellent contributions to The Cripplegate over the years. His book is called Amillennialism and the Age to Come: A Premillennial Critique of the Two-Age Model (Kress Biblical Resources, 2016). (Available from Amazon and Kress.) If you're interested in eschatology or studies of the Kingdom of God, you'll benefit greatly from Matt's work. He's given me permission to reproduce the preface of the book, and I hope it entices you to read the whole thing.
*     *     *     *     *
One of the most encouraging developments in evangelicalism over the past several decades has been the remarkable resurgence of reformed theology. This rediscovery of the doctrines of grace has not only captured the Bible's emphasis on the sovereignty of God in salvation but also strengthened the unity of the church around the centrality of the gospel.