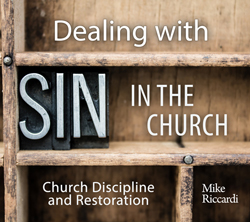 A couple of years ago, our church had the privilege of hosting a number of law enforcement officers from our community for morning services. More than 100 police officers who patrol the city of Los Angeles responded to John MacArthur's invitation to join us for a Sunday morning that, in part, honored their commitment to protecting our society and gave them the opportunity to hear what the Word of God has to say about them: the civil authorities. Pastor John preached on the various institutions that God has raised up for the sake of restraining evil and maintaining order in a society: the conscience, the family, the government, and the church. Each of these God-ordained institutions, he explained, serves to restrain evil and maintain order in a society.
As would be expected, Pastor John focused on the institution of government that morning. But there's reason to focus on the fourth of those institutions as well. Just as there is a great need for law and order to keep the peace in a civil society, so also is there a need for such law and order in the church. A civil society that has no laws, or that has no system of order to enforce those laws—no system to punish and rehabilitate offenders—is doomed to chaos. So severe is the nature of human depravity that a society of depraved human beings unrestrained by law and order is just unthinkable.
And the same is true of the church. Now, it's true that our depravity has been overcome by the work of Christ on the cross. It's true that we who are believers in Christ have the Holy Spirit of God dwelling inside of us, directing our desires and causing us to strive against the flesh, and leading us to walk in righteousness. But those realities are not true for all who enter through the doors of the church on Sunday. Even within the visible church, there are those who believe that they're saved, but who have not yet turned from their sins and put their trust in Christ alone for their righteousness. And for those who have been born again—even though we have been set free from the penalty and power of sin through the Gospel—we have not yet been set free from the presence of sin in our flesh. Galatians 5:17 reminds us: "For the flesh sets its desire against the Spirit, and the Spirit against the flesh; for these are in opposition to one another, so that you may not do the things that you please." Paul says elsewhere, "I find then the principle that evil is present in me, the one who wants to do good. For I joyfully concur with the law of God in the inner man, but I see a different law in the members of my body, waging war against the law of my mind and making me a prisoner of the law of sin which is in my members" (Rom 7:21–23).
And so even though we who belong to Christ have been declared righteous in God's sight on the basis of Christ's righteousness, we nevertheless strive against the presence of remaining sin in our flesh. It is unhappy but all too familiar reality: Christians sin. And that means that the church needs to know how to deal with sin in its midst. There needs to be law and order in the church—a process for identifying, disciplining, and rehabilitating sinners.