When one of my daughters loses a tooth, I reward her with chocolate. A dentist might find this ironic—"Do you want her to lose the rest of them?"—but I feel that the reward is an essential element of this rite-of-passage.
A wiggly tooth is frightening to a child. The idea of the tooth falling out…well, that can be downright terrifying. And my normal go-to parental response of: "suck it up girl, this happens to everyone!" doesn't quite assuage the fears.
But chocolate does. In fact, my girls so love chocolate that they actually look forward to loosing their teeth. The existence of the reward took something that induced fear, and it transformed the trepidation into expectation.
Yet the existence of a reward does not make the inevitable conditional. It is not as if a child could say, "Since I don't like chocolate, I guess I'll just keep all of my teeth." No, the teeth are coming out regardless of weather or not the girl actually wants the reward.
With this analogy in mind, consider why Jesus ends each of Revelation's seven letters with the promise of a reward. In this section of scripture (Revelation 2-3) Jesus writes to a few bad churches, a few excellent churches, and a few decent churches. He tells some of them that wrath is coming, some of them that rescue is coming, but to all of them he describes a Christians' future rewards.
In fact, if you look at the end of all seven letters, Jesus describes fifteen different rewards: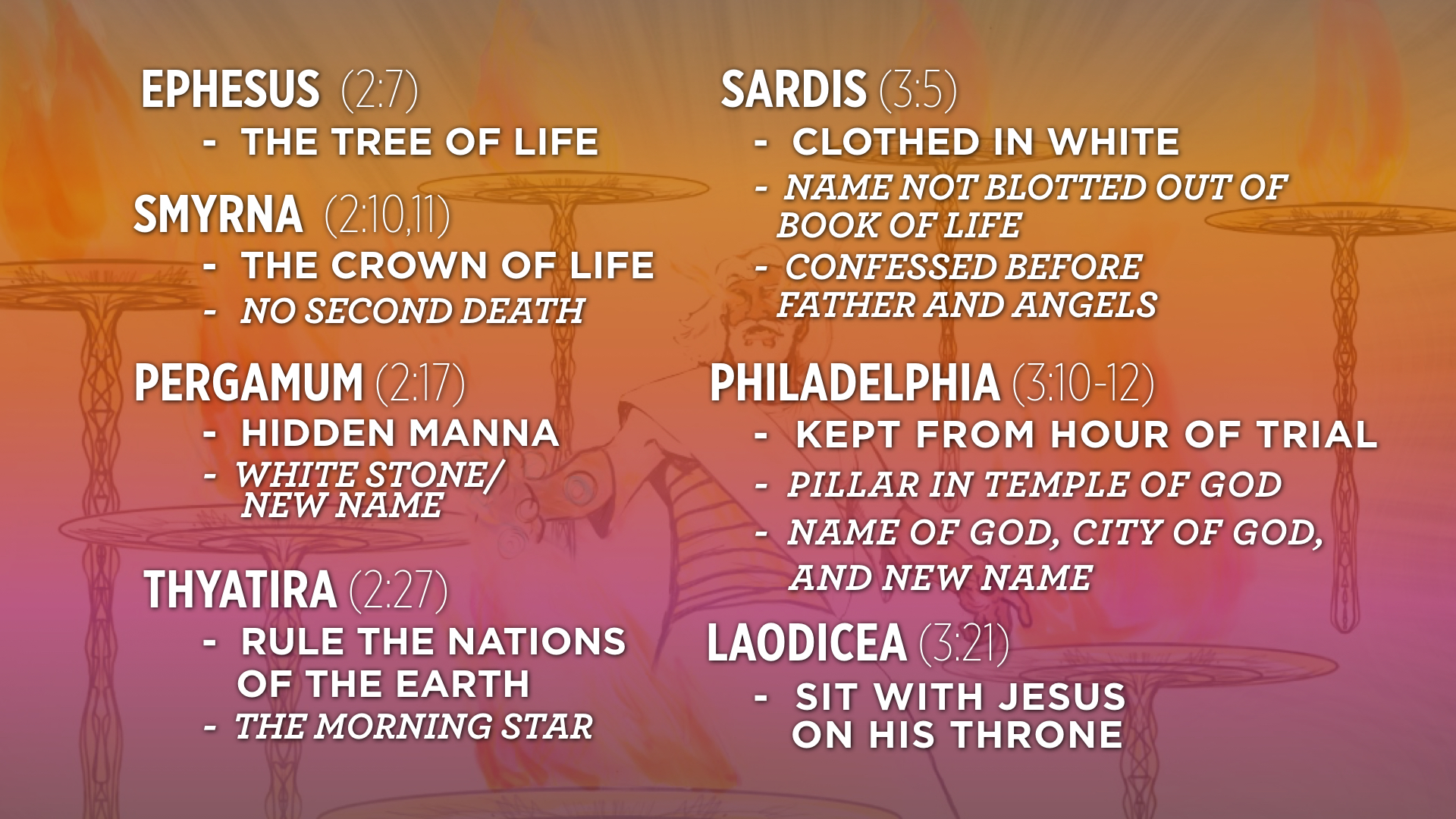 These rewards can seem all over the map—and that's because they literally were. They are not described in the seven letters in any kind of chronological order, because instead they are following the geographical progression of the seven letters themselves (the letters would have been delivered in the order they are written in, following the Roman postal route).
That doesn't mean the rewards are random. Instead, Jesus chose facets of future glory that would be particular to the struggles and strengths of the church that received the letter. So in that sense, each of the letters is its own stand-alone unit, and each unit describes a reward that is referenced latter in the book of Revelation.
With the unity of each letter in mind, Jesus' words to the Philadelphian church stand out. This letter is unique because they receive a description of rewards that happen at different stages of future glory. Jesus begins by describing the rapture, then the tribulation, then the kingdom, and finally the eternal state.
With that basic eschatological outline in mind, it is helpful to view all of the rewards offered in terms of what stage of future glory they are received. In fact, think of the rewards as a menu; when you go to a restaurant, they don't just give you an alphabetized list of all that they offer. They don't sort it by price, or by preparation time. Instead, they sort it by the typical way a person would receive it—appetizer, salad, entrée, and dessert.
So let's look at the rewards of Revelation 2-3 through the lens of a menu—a menu of rewards:
Rescue of the Rapture (3:10):
Because the book of Revelation describes the cataclysmic events of chapters 4-19, and then obviously describes the church ruling the nations with Christ (2-3; 19-20), then it would be logical to assume that the church must somehow pass through the events of Revelation 4-19. So chronologically, the first of the rewards experienced is the rescue "to keep you out of the hour of testing that is going to come over the whole world to test those who live on the earth" (3:10; also described in John 14:3; 1 Cor 15:52, 1 Thess 4:17, as well as Rev 12:5).
Reunion with Rewards (3:11):
After the rapture (or for those who proceed the rapture), the next stage of history will be in the presence of God in glory. It is at this moment when we awake in the presence of Christ, aware of our unworthiness. There Jesus will clothe us in white our name will not be blotted out of the book of life, and Jesus will confess us before angels and before our heavenly father (3:5).
After that, we will receive a white stone, demonstrating we have a right to be there (2:17). We will receive the crown of life, and no longer be in fear of the second death (2:10-11). We will have access to the hidden manna of God's power (2:17). This is the scene also described 2 Cor 5:10 and Rev 19:7-9.
Reign of the Kingdom (3:12a):
After our reunion with Christ in glory, he will return to earth with his glorified church. He will subdue the nations, and we will rule over them with an iron rod (Rev 2:27, 3:9). We will reign with Jesus as he sits on his throne (3:21), and as his temple is established (3:12; also described in Rev 20).
Restoration of Eternity (3:12b):
As Revelation draws to a close, believers will see the new Jerusalem descend from heaven, and the city of God will be with man for all time, and we receive a new name for eternity (Rev 3:12, Rev 21-22; 1 Cor 15:28).
Taking all of these together should give us a grand view of our future. It should have the effect of causing us to look at the world which always seems to be wiggling on the brink of disaster, and know persecution can come and go, because God has rewards for his believers that will remain forever.