On January 22, 2006, Kobe Bryant did the unthinkable.  He scored 81 points in a single NBA Basketball Game. One of the greatest players to play the game, accomplished one of the greatest feats in the history of basketball.
And I was there.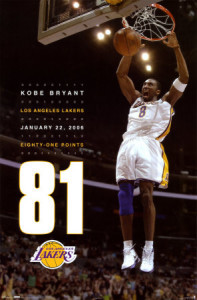 You should have seen me. I couldn't get out of the arena fast enough to call anyone I knew with a cell-phone.  I called my high school basketball coach.  I called my teammates.  I told random people on the street.  For a few months I would figure out ways to bring it up in conversations. And then slowly as time went on, I didn't talk about it as much. I still figure out ways to stick it into sermons or blog posts, but over time my excitement of that moment has become less than it once was.
I feel like the same thing happens with evangelism. As time passes after our big day, we lose our passion and boldness. Suddenly, something that came so easy for us only a few years ago dissipates.
I believe that Scripture is filled with daily practices that the Lord has given to us, that, if we see the connection to evangelism, will lead us to a greater motivation to share.
Here are three habits that will kindle the fire for your personal evangelism:
Daily Repentance
What happened to the believer who lost His passion for evangelism? Perhaps over time he forgets how sinful he is and how undeserving he is of the gift he has been given. Perhaps he doesn't see the connection between repentance and evangelism. The Lord has given us an opportunity to be reminded of our salvation through daily repentance. Repentance doesn't re-save us, but it does restore our relationship with Him. And each time it reinvigorates us to serve our Lord. David in Psalm 51 gives us the model. First he pleads with the Lord for forgiveness (Psalm 51:1-6), then he remembers the Lord's promises and is purified by the Lord (Psalm 51:7-12), but third it propels David towards proclamation (Psalm 51:13-19).
He guarantees in Psalm 51:13-15,
"Then I will teach transgressors your ways, so that sinners will turn back to you. Deliver me from the guilt of bloodshed, O God, you who are God my Savior, and my tongue will sing of your righteousness. Open my lips, Lord, and my mouth will declare your praise."
He takes this new-found forgiveness which is a reminder of His identity in his Savior and it sends him out encouraged and bold to let everyone know of His wonderful Savior.
A daily pleading with the Lord to forgive us of new trespasses, will lead to being purified by Him, which will lead us to proclaim Him as the forgiving and merciful God He truly is.
Daily Worship
Some Christians don't realize that evangelism is an extension of what happens in the prayer closet. The reason why we evangelize is because we want our God to be worshipped by all lips, and we are so in love with Him that we cant shut-up about Him.
In Psalm 145:2 David makes a promise. He says that no matter what, every day he will praise Yahweh.  That he will wake up each morning and no matter the circumstances he is in, he will spend that day worshipping His God. The next 19 verses go on to describe the immense and beautiful Creator whom he is worshipping.
He's in awe of God's greatness (Psalm 145:1-6), he sings about His goodness (Psalm 145:7-10), he longs for His glorious coming kingdom (Psalm 145:11-13), he rejoices in His generosity (Psalm 145:14-17), and finally he's captured by His incredible grace (Psalm 145:18-21). It is fascinating to see the connection between thinking about the attributes of God and talking about God. The more you get to know the Lord of Glory the more you have to tell people about Him.  It is unavoidable.
In verse 4 he declares,
"One generation shall praise Your works to another, And shall declare Your mighty acts."
In verse 7 he shouts,
"They shall eagerly utter the memory of Your abundant goodness And will shout joyfully of Your righteousness."
In verse 11 he proclaims,
"They shall speak of the glory of Your kingdom And talk of Your power"
And finally In verse 21 he promises,
"My mouth will speak the praise of the Lord And all flesh will bless His holy name forever and ever."
A daily pondering about who God is, should always lead to praising Him for who He is, and this will always drive to a proclamation of Him.
Daily Evangelism
This motivation is more experiential and less biblical, so take it or leave it. Every time I go out to share the Gospel, or just engage people in conversation in my daily activities, the Lord uses it to motivate me towards more evangelism. It's a vicious cycle. Through evangelism I get to:
Remember what God did for me
Every time you evangelize you are reminded about the gospel, you are reminded about the fact that you deserve death and hell and that without Christ you would be still on your way to hell. Knowing I will be able to share my testimony and the work He has done in me, is a great motivation to do it.
Remember how lost people are
Each conversation with an unbeliever is a reminder of how lost and in need of the gospel people are. Every time I speak with an unbeliever I am reminded about the fact that they need to hear the truth. This always propels me to do it more often.
Remember my dependance on God
Ultimately every encounter brings you back to your knees knowing that you depend upon the Holy Spirit for everything in life. Evangelism is a humbling experience, and we know that humility and dependance on God are essential for the Christian life.
Hear the Gospel from others
If you go with someone else, every conversation is an opportunity to hear the Gospel once again. Also the encouragement of seeing a fellow member of the body of Christ take time out of their day to share the truth, is uplifting and motivating.
I think that if we practice these habits daily we will have plenty of motivation to share our faith boldly.