I'm a sucker for a good sales pitch. I've plunged into various predicaments because I couldn't say no. This weakness almost derailed my career path the day the US military recruiters showed up at my seminary.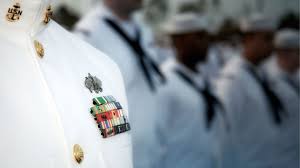 They wanted military chaplains. Being a chaplain was so far away from my calling that I expected to be impervious to their pitch. But their chapel speaker, a major in the Navy in a Top Gun-esque white uniform and impressive physique, preached up a storm. He regaled us with how he got to start Bible studies on submarines off the coast of Iraq, how he would disciple pilots while jogging with them on the aircraft carrier, and how he counseled combat troops in exotic locations.
After chapel, a gaggle of awestruck students fluttered to the recruiters like moths to the flame. The recruiters in their smart uniforms all smelled so good and beamed friendly smiles. They talked of seeing the world and being all you can be. They had pictures of happy soldiers with gleaming guns repelling from helicopters like my childhood GI Joe fantasies.
I…was…mesmerized.